Diminished Value Atlanta | Car Appraisals & Claims 678-404-0455
What is Diminished Value?



Diminished Value is defined as the reduction in resale value of an automobile caused by a car accident (collision) or an incident (fire, flood, hail).
Accelerated Depreciation:
Automobiles are depreciating assets that normally decrease in value as time goes by.
Car accidents will hasten the normal rate of depreciation and lead to an immediate and quantifiable loss in value.
Resale value reduction; according to auction data, a wrecked and repaired vehicle will sell for less than an undamaged counterpart.
Legal precedent; courts have stated that vehicles involved in an accident suffer an inherent reduction in value, and that efficient repairs could not return said vehicle to its pre-accident condition or value.
The majority of car shoppers will not be interested in acquiring a wrecked and repaired vehicle; the few that are, will demand a hefty discount.
Buyers tend to be afraid of the long-term implications of a collision as well as the negative impact on the vehicle history report.
Diminished Value Calculator:
Loss in value case study, sample insurance claim review.
Vehicle: 3 year old Lexus Sedan
Damage Type: Collision with another vehicle
Repair Amount: $10,500 (parts and labor)
Severity: Major rear-end damage, structural repairs performed
Pre-Accident Cash Value: $27,500
Post-Repair Cash Value: $22,900
Loss in Value Calculator: $27,500 – $22,900 = $4,600 | This is the amount the vehicle lost in value and what the vehicle owner should request from the at-fault insurance company.

If you're looking for a car appraisal after an accident, please visit our " Do I Qualify for Diminished Value?" page to check if you're entitled to monetary compensation.
Why Hire a Licensed Car Appraiser?
To be properly compensated for your loss in resale value, it is very important to hire the most qualified auto appraisers available. Not only should the appraiser be licensed by an official state entity, they should also adhere to a strict code of ethics.
Insurance carriers tend to use a bad formula called 17c to settle diminished value claims. Vehicle owners, unaware of their right to reject and dispute settlement amounts, end up leaving millions of dollars uncollected only to suffer sticker shock when selling their cars.
Our analysis has proven that the 17c formula is incorrect, unfair and inherently flawed; the Georgia Insurance Commissioner does not endorse the formula used by insurance carriers. Read the Georgia Insurance Commissioner Directive on Diminished Value.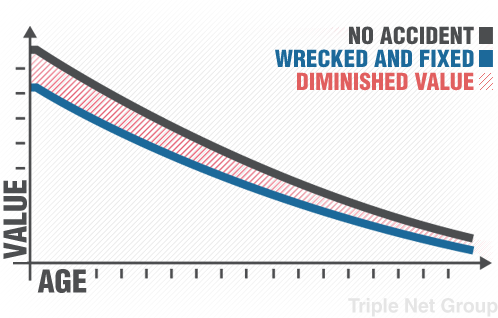 Why Order a Diminished Value Car Appraisal Report?
To dispute the insurance carrier's unfair 17c offer, it is your responsibility to submit to the insurance company a USPAP compliant car appraisal report to document your loss.
Diminished Value of Georgia offers auto appraisal reports that include the following:
Multi-Point vehicle inspection
Vehicle History Report
Repair Quality Analysis
Insurance demand letter tailored to your claim
Market Analysis of comparable automobiles
Supporting legal documents
Automotive industry guide
Pre-Accident value
Repair estimate analysis
Post-Repair Value
Loss in Value Amount

As you can see, this is a complete and comprehensive diminished value solution that you cannot find elsewhere. For more information please visit the Why hire DVGA page to learn more about why you need to select us for your auto appraisal needs.
Not All Car Appraisers are Created Equal!
In Georgia, regardless of fault, you are entitled to your vehicle's loss in resale value. Collecting diminished value on the other hand depends on many factors, the most important of which is the selection of a competent auto appraiser. Your insurance settlement is proportional to the credibility and accuracy of your appraisal report. Insurance carriers know who the legitimate appraisers are, don't spend your money on a bad appraisal.
For best results and for the highest payout percentage, always hire a licensed auto appraiser. 
Our appraisers and inspectors have 30+ years of combined auto experience; we are experts in automobile valuations and the authority on diminution in value auto claims. Did you know that in the first half of 2013 we helped our clients achieve an additional $4.5 million in additional insurance claim payouts?
We are intimately familiar with Georgia's diminished value law, in fact, our senior appraiser is approved by the Georgia Bar association to conduct lawyer continued education training.
We are ethical, reliable and top rated. You can always retain our appraisal services for a flat appraisal fee, we never charge a percentage of your claim.
Please Note:We are not a law firm and don't offer legal or financial advice. We are auto appraisers and our mission is to provide you with a valuation report that will help you substantiate your claim and give you the documentation needed to be properly compensated. We cannot promise that insurance carriers will act in good faith. Based on feedback from our clients 90% of claims are amicably settled after submitting our report to the insurance company.