Diminished Value of Georgia, Atlanta's #1 Car Appraisal Experts
What is "Diminished Value"?
Diminished Value or Loss in Value is defined as the reduction in resale value of an automobile caused by a car accident (collision) or an incident (fire, flood, hail). In general, automobiles are depreciating assets, however, an accident will accelerate this depreciation and will cause an immediate and instant drop in market value.
How does Diminished Value effect you?
If you're trying to sell your wrecked and repaired vehicle, the  buyer will likely refuse to pay the same money for it as they would an accident free car, so you are likely to sell it at a discount. In other words, you just lost some money or equity you may have had in your vehicle.
Insurance companies are typically required to reimburse for the reduction in value after repairs, this loss in value is owed in CASH to you, the vehicle owner, after the repairs are completed.
In Georgia, insurance carriers are also required to pay their own insureds for the loss in value; in other words, if the accident was your fault (collision or comprehensive) you can also get paid for the loss in value suffered due to your own negligence. There is no premium penalty associated with requesting diminished value, so if the accident is your fault, you should request proper compensation as this loss will be accrued when you try to sell your car.
How to recover your lost money?
Insurance companies tend to underestimate diminished value amounts; that is where our company comes in to help.  Most of our clients contact us after receiving a meager settlement, usually $300 or less, this is sometimes 10% of what you are truly owed.
As licensed car appraisers, our job is to accurately quantify you loss in value so you can receive the maximum compensation you're entitled for. Our appraisal reports are based on real time market data that track the drop in resale value and are accepted by all major carriers.
Diminished Value Calculator Case Study
A sample case study shows how diminished value affects a vehicle.
Vehicle: 3-year-old Lexus Sedan
Damage Type: Collision with another vehicle
Repair Amount: $10,500 (parts and labor)
Severity: Major rear-end damage, structural repairs performed
Pre-Accident Cash Value: $27,500
Post-Repair Cash Value: $22,900
Loss in Value Calculator: $27,500 – $22,900 = $4,600 that the vehicle lost in value and that the owner should request from the at-fault insurance company.
See how your circumstances measure up with this case study and call Diminished Value of Georgia for a free estimate.
Who is Diminished Value of Georgia?
Diminished Value of Georgia is a local, trusted car appraisal company serving the greater Atlanta area. We offer a full range of car appraisal services to meet the needs of insurance claimants, car buyers and sellers, and classic auto collectors. Our services include:
Diminished Value Appraisals
Actual Cash Value
Loss of Use
Fair Market Value
Charity Appraisals
Classic Cars
Our licensed professional appraisers are committed to meeting the highest ethical standards. With a combined three decades of auto experience, our appraisal reports are accurate, unbiased and respected in the automotive and insurance industries.
Understanding accelerated depreciation
As personal property that undergoes regular use, automobiles naturally decrease in value over time. Car accidents hasten the rate of this normal depreciation and cause an immediate, measurable loss in value.
According to auction data, even after a repair, a vehicle that has been in a wreck will sell for less than a comparable undamaged auto.
Georgia's Supreme Court decision (Mabry V State Farm) recognized as a matter of law that a vehicle cannot be completely returned to its pre-accident value because the majority of car shoppers will NOT be interested in purchasing a car that has been through an accident or will demand a hefty discount.
An accurate calculation gives a fair impression of the true value of an accelerated depreciation and improves the car owner's chances of being made whole.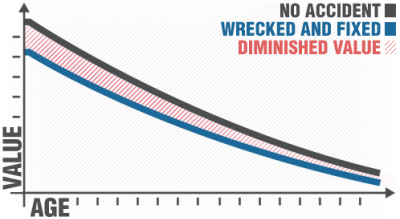 17C Formula
By and large, in calculating payments for a vehicle's diminished value, insurance companies rely on an unfair and inaccurate formula known as the 17C Formula. This method uses a series of overly simplistic factors and a 10% cap to arrive at an unrealistic calculation of an auto's lost value. Even the Georgia Insurance Commissioner has rejected the formula.
The good news is a car owner can present an alternate reliable appraisal and often increase the amount of the insurance company's payout for diminished value.
Find out if you qualify for Diminished Value in Georgia
Georgia courts have recognized that diminished value is compensable under an auto insurance policy. However, there are a number of factors that could render a vehicle ineligible for the compensation, including age of the car, original market value, and the extent of the loss.
Find out if your vehicle qualifies for diminished value in Georgia by calling (678) 404-0455.
Order a Diminished Value Car Appraisal Report
In order to overcome an insurance company's unfair 17c calculation of diminished value, it is your responsibility to submit a USPAP compliant car appraisal report to document your loss.
When you choose Diminished Value of Georgia, our field appraisal report will include:
Multi-Point vehicle inspection
Vehicle History Report
Repair Quality Analysis
Insurance demand letter tailored to your claim
Market Analysis of comparable automobiles
Supporting legal documents
Automotive industry guide
Pre-Accident value
Repair estimate analysis
Post-Repair Value
Loss in Value Amount
We are the only auto appraisers you will find offering this complete and comprehensive diminished value solution.
Hire a Licensed Atlanta Car Appraiser
In Georgia, regardless of fault, you are entitled to recover your vehicle's loss in resale value. But to overcome the insurance company's standard low offer, you need a reliable report by a competent auto appraiser. Not all car appraisers are created equal and simply choosing the one who provides the highest estimate may not only cost you credibility that jeopardizes your claim but might also constitute fraud.
For best results, and the highest payout percentage, always hire a reputable licensed auto appraiser. Insurance carriers know who the legitimate appraisers are; they respect the reports produced by Diminished Value of Georgia. Our appraisers and inspectors have 30+ years of combined auto experience and are committed to ethical and reliable service. We are so intimately familiar with Georgia's diminished value law that our senior appraiser is approved by the Georgia Bar Association to conduct lawyer continued education training.
When you substantiate your claim with a report from Diminished Value of Georgia, you increase the likelihood that the insurance company will fairly compensate your diminished value claim. While we cannot guarantee that insurance carriers will act in good faith, our clients report that 90% of claims are amicably settled after submitting our report to the insurance company.
Join forces with one of Atlanta's leading licensed car appraisers and find out why so many choose to work with us.
What is Diminished Value? The infographic below shows the impact an accident has on your car's value.