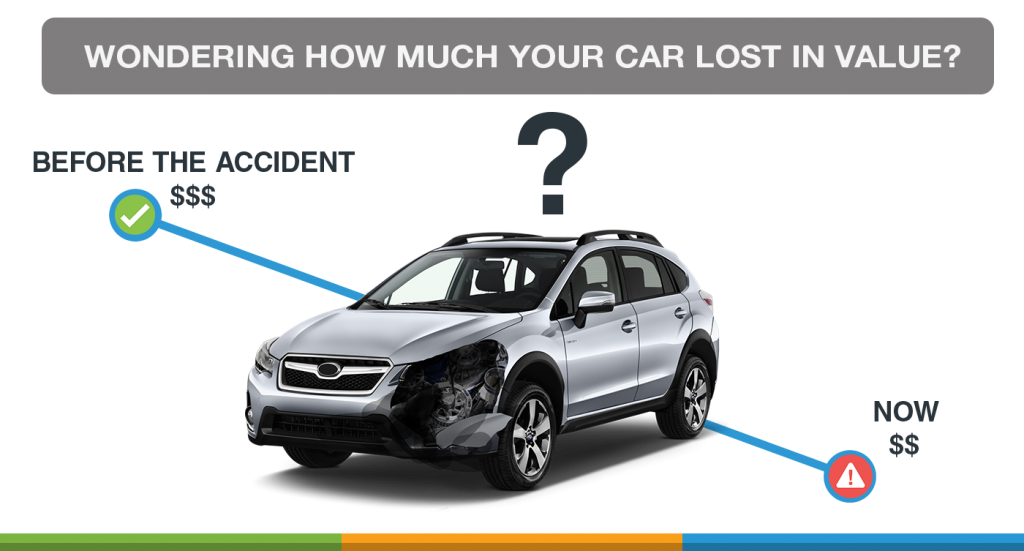 If your vehicle is damaged in a car accident, and repairs made to the car fail to return it to its condition prior to the accident, your car may have suffered "diminished value." Diminished value is different from depreciation, which is the expected loss of your vehicle's monetary value over time. But your car may have "inherent diminished value" if it was involved in a collision or other specific event which inflicted major damage. It may also qualify for diminished value if it was repaired poorly or incorrectly in the wake of such an event.
If your automobile meets the qualifications for diminished value, you may be eligible for compensation. However, getting the maximum value to which you are entitled from an insurance company can sometimes be challenging. At Diminished Value of GA, we can help you discover whether you qualify for a diminished value claim and how to best go about filing such claim.
Circumstances that may disqualify you for diminished value
For insurance-related purposes, not all vehicles that have undergone damage qualify as having diminished value. If your car was not worth much, to begin with, or if the accident did not inflict significant damage, the amount that the vehicle decreased in value may be too insignificant to file a claim.
This list includes several circumstances which may disqualify you from making a diminished value claim for your car:
Your vehicle does not have a substantial market value  (cars under $7,000)
You've already signed a release of liability form
The accident caused minimal damage (usually under $500)
The vehicle has excessive mileage (more than 30K miles per year)
Your vehicle is too old (normally 10 years or older)
Your vehicle has a branded title (salvage or rebuilt)
Your vehicle had multiple previous accidents with greater damage
Your vehicle was declared a total loss
The statute of limitation has lapsed
If you're outside Georgia and courts have ruled against DV
If you are still not certain whether you qualify, or want to ask about a specific case, please call us at (678) 404-0455.
Qualifying for diminished value in Georgia
In the state of Georgia, there are laws that govern what an insurance company can or cannot do in connection with diminished value claims.
You should be aware that:
Insurance companies are required to pay diminished value.
Your insurance premium cannot increase due to a diminished value payout.
Your insurance company cannot cancel your policy for collecting diminished value.
You can file a diminished value claim regardless of whether or not you were at fault in the accident.
You should also be aware of other diminished value claim laws and guidelines specific to the state of Georgia. For instance:
$15,000 is the maximum you can sue for in a Georgia magistrate court.
You don't have to hire an attorney to help you collect diminished value but might want to do so for bodily injury.
You may deduct uncollected diminished value off your taxes. (See IRS form 4684. However, if you need assistance with taxes, we recommend that you contact a CPA as we are unable to offer tax advice.)
What To Do If You Qualify for Diminished Value
If you qualify for diminished value based on the criteria listed above, please fill out our FREE Diminished Value estimate to get an idea on how much your vehicle lost in value. You can also call us at (678) 404-0455 or bring your vehicle to our Atlanta location for a courtesy estimate. We also have field inspectors covering the greater Atlanta Metro area for your convenience.
Once you submit the Diminished Value questionnaire, it will only be a few hours before you receive a preliminary estimate from one of our licensed auto appraisers. The estimate will include instructions on how to move forward with your claim.
If the estimate you receive from us is consistent with the insurance company's offer, then go ahead and ask them to send you a check!
In most cases though, the insurance company will give you a low ball offer. At this point, we can intervene to make sure you receive the maximum compensation for your vehicle's loss in value.
Diminished Value of GA Checklist
In order for Diminished Value of Georgia to complete your comprehensive appraisal, we will need you to assemble and submit the following items:
The Diminished Value questionnaire
Final repair bill from a body shop or final insurance estimate (fax or email)
Pictures of the vehicle in question or a physical inspection (a physical inspection is necessary in the case of automobiles that were repaired poorly and thus lost monetary value).
Police report (optional)
Payment Click Here.
After these items have been submitted, please allow 1 to 2 business days to receive our comprehensive Diminished Value appraisal.
Additional Resources to Determine Your Diminished Value Qualification
---
Fill out the form below, or call us at 678-404-0455
for a free diminished value quote.