Diminished Value Desk Appraisal – Order Page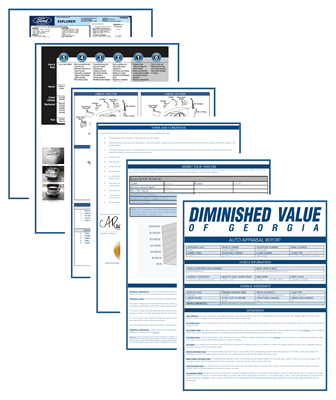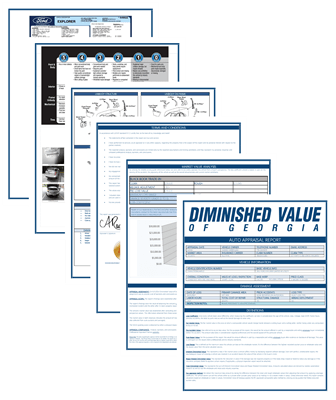 Diminished Value Desk Appraisals don't involve an in-person physical inspection but are truly tailored to your vehicle. Since each claim is different, one of our licensed appraisers will be reviewing all the details of your claim and composing a valuation report within 12-24 hours.
Desk appraisals are normally requested in situations where the loss in value amount is low to moderate.
The insurance company may request a physical inspection, if you've already ordered a desk appraisal, you can simply pay us the difference in price between the two services ($175 vs $325).
Please contact us at 678-404-0455 or email  inquiries@dvgeorgia.com if you need a quote, have questions or unsure which option is best for your claim.
Diminished value report = proof of loss
In insurance claims, the proof of loss is far more than just another form to fill out. It is actually one of the documents that is typically contractually required under an insurance policy in order to receive payment on a claim.
The proof of loss details the elements of the insurance claim but it is not to be taken lightly. It is often required to be submitted with a notarized sworn statement and within a policy-designated time frame. It will need to include facts such as identifying information for the vehicle, the date of loss, and details about the extent of the damages. Misrepresenting these facts could constitute insurance fraud.
Our appraisal report will serve as your Diminished Value proof of loss; it is USPAP compliant and the BEST in the business.
Desk auto appraisal requirements
When you order a desk auto appraisal, one of our licensed and experienced appraisers will review the file documents and prepare an estimate of the cost of repair as well as the diminished value.
In order for us to process a desk appraisal, we need the following:
Filled out Diminished Value Questionnaire (below) or fill out and print our Desk-Appraisal-Request-Form
Copy of the final insurance estimate of record (sample)
Four Post-Repair Pictures of the vehicle, one of each side. (example)
If the vehicle had a previous loss, we need that repair estimate as well.
$175 Payment
Desk appraisal request form
Our convenient online Diminished Value Desk Appraisal Request form will guide you through the information we need to prepare an appraisal. Be ready to provide ownership information and notes about the make, model, age, and condition of the vehicle as well as details about the loss. If the vehicle has been repaired, we need information about that as well.
The desk appraisal request form conveniently allows you to upload supporting documents. In addition to the requested copy of the final insurance estimate, four post-repair photos, and any prior repair estimate, please attach any other documents that substantiate your loss.
Final insurance estimate of record
When it comes to insurance estimates, not all are created equal. To understand what is included in a damage or repair estimate you absolutely need a line item-detailed estimate of the loss from the insurance company (sample). This is the only way to compare apples to apples and to ensure that all covered damage is addressed.
When you request that we perform a desk assessment, please provide a copy of the insurance company's final estimate so that we can determine the scope and value of included repairs.
Four post-repair picture of vehicle
Taking photos of your vehicle throughout the process is more than just a good idea. Insurance companies generally want four photos of the vehicle after the accident to be submitted with the proof of loss. At Diminished Value of Georgia, we also request four photos of the vehicle post-repair to help us determined the value that has been lost after the repair. The photos should be clear and from several angles. See examples here.
Affordable, flat fee for diminished value desk appraisal
There is nothing complicated about our pricing. Diminished value desk appraisals come with a flat fee of $175.
When you order a desk appraisal from Diminished Value of Georgia, you will receive:
A valuation report that complies with USPAP standards
Supporting documentation
Complete Vehicle History Report
First party claim settlement assistance, including demand letter and follow-up support
Auto Industry Guide
Support by phone and email
To remain unbiased, we never take a contingency fee or other unethical interest in your claim. To learn more about our services and pricing, click here.