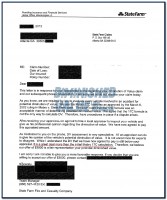 State farm admitting that the 17c formula is unfair and that an actual appraisal yields a "great deal more" than the formula!
Obviously, unless a "dispute arises", they will try to sell you on their mabry formula.
Tell State Farm NO, you will not accept their settlement offer.
Hire Diminished Value fo Georgia and show State Farm you mean business.
Free Quote Request: