UPDATE: DVGA has been voted one of the Best Of 2016 winners! Now 5 years in a row. (Jan 22, 2017)
 
Atlanta-based Diminished Value of Georgia voted Best of 2015 on Kudzu  (Jan 26, 2015)
4 years in a row!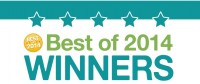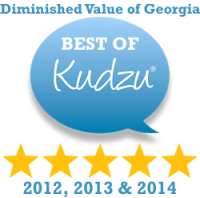 ATLANTA (January 29, 2015) – Diminished Value of Georgia, Atlanta's preeminent automobile appraisal company, has been awarded Best of 2014 by leading online directory, Kudzu. This is the third consecutive year that Diminished Value of Georgia has received this honor from Kudzu, which bases its rankings on user reviews. Diminished Value of Georgia is an independent car appraisal company specializing in loss-in-value claims. Their clients range in size, from individuals seeking appraisals for their personal vehicles to attorneys and insurance carriers.
When a car has been damaged by an accident or incident (such as fire or flood), its owner is entitled to reimbursement for the loss in value the vehicle incurs. This loss — or diminished value — is often underestimated by insurance companies that use an unreliable percentage-based formula which yields values that are much lower than the actual loss amounts. It is critical that car owners who have suffered an accident order an accurate and credible auto appraisal report to serve as proof-of-loss to insurance companies, thus enabling them to collect what they are rightfully owed.
For three consecutive years, DVGA has received the highest ranking on the website Kudzu for appraisal companies in Atlanta and surrounding areas. Reviewers offer overwhelmingly positive evaluations of the business, noting how helpful and knowledgeable the employees are.
"Thank goodness I found Diminished Value of Georgia," wrote reviewer PattiJK. "They helped me not only deal with the insurance company, but also an uncooperative auto body shop. Tina was extremely helpful and knowledgeable. She kept in touch with me throughout the entire process. Tony, my appraiser, was straightforward and prompt with my report. I definitely feel I received a fair settlement and would recommend them!"
Another reviewer, nbons01, explained how DVGA delivered outstanding service. "I was hit by a driver who ran a red light and caused 15k in damage to my car. As expected, USAA was doing everything they could to avoid giving me a fair payment for diminutive value. I purchased the desk appraisal from Diminished Value of Georgia, and their knowledge, service, and overall result blew me away. Tony walked me through the process, gave me a trusted appraisal, and ending up negotiating on my behalf with USAA. In the end, USAA agreed to pay me almost twice their initial offer. This was the best $150 I could have spent."
In addition to the Kudzu awards and five-star ratings, Diminished Value of Georgia ranks number one in the state of Georgia on the website Angie's List in the auto appraisal category, and it has received an "A" grade by the Better Business Bureau.
Diminished Value of Georgia offers helpful information on its website to educate consumers about diminished value, including a diminished value calculator that assists customers in determining how much money they may be entitled to for the loss in value of their car. For more information, visit Diminished Value of Georgia or call (678) 404-0455.
Atlanta-based Diminished Value of Georgia voted Best of 2014 on Kudzu