1- Get the knowledge, Know your rights after a wreck.
2- Get our Comprehensive Auto Appraisal Report.
3- Get fully compensated for your Loss.
What is diminished Value?
Diminished Value (DV) or Accelerated depreciation, is the loss of resale value a vehicle suffers if prior damage or damage history is apparent to a prospective buyer. A vehicle damaged and repaired will always be inferior to and has less value than an unmolested counterpart.
After an accident, the at fault insurance company, by state law, is required to return your vehicle to its pre-accident condition; This is clearly impossible, The very act of being in an accident automatically reduces the value of the wrecked vehicle and makes it twice as difficult to sell, regardless of the repair quality.
Most car buyers shy away from wrecked & repaired vehicles because of the long term implication of a collision as well as the un-erasable and forever blemished vehicle history report.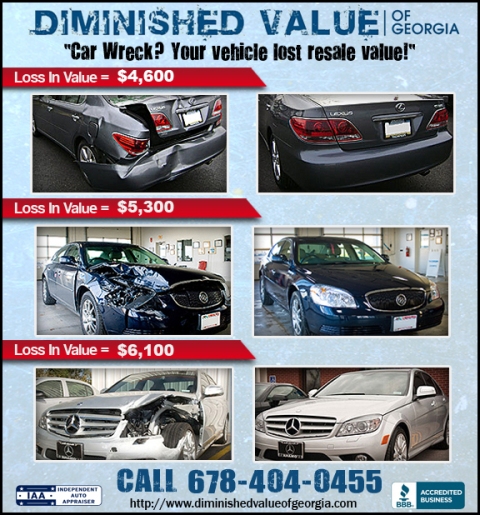 Example: A two year old vehicle has an actual cash value of  $24,000. Due to an accident, the vehicle sustains body and structural damage with an estimated repair cost of $10,500.  Due to the severity of the accident, the paintwork, the negative mark on the history report etc…. $19,400 is currently the market value. The loss in market or resale value due to this accident, in this case $4,600, is called diminished value and you're legally entitled to it. Do not confuse this concept with depreciation which occurs naturally and is caused by time passing by.
If you've been involved in an accident in the past year, please visit our " Do I qualify?" page to see if you're entitled to monetary compensation.
To collect diminished value, it is very important to hire the most qualified Auto Appraiser to accurately quantify this loss in market value. We understand times like this can be very stressful, this is why we guide you every step of the way by offering you a comprehensive and complete diminished value solution.
While the vehicle is being repaired or shortly thereafter, the at fault Insurance company will send you a check or call you with a Diminished Value offer. Beware of this tactic, most insurers  tend to use a formula called 17c to quantify the loss in value. Most claimants, unaware of their right to reject and dispute the offer, end up accepting  a low amount leaving millions of dollars uncollected.
We believe the 17c formula is incorrect and inherently flawed, the Georgia Insurance Commissioner concurs. Read the Georgia Insurance Commissioner's  Directive on Diminished Value. We strongly recommend getting a free estimate from us before settling for a low-ball, 17c based, insurance offer.
Please fill out this Diminished Value questionnaire or call us at 678-404-0455 to receive a complimentary claim review. During this time we will advise you to what the true loss in value amount is and how to properly proceed with your claim dispute and ultimate payout increase.
Our Diminished Value Auto Appraisal Service Includes:
Multi-Point vehicle physical inspection.
Vehicle History Report
Repair Quality Analysis
Insurance demand letter tailored to your claim.
Market Analysis of comparable vehicles
Supporting legal documents
Auto industry guide
Pre-Accident value
Repair bill analysis
Post-Repair Value
Diminished Value amount
As you can see, this is a complete and comprehensive Diminished Value solution that you cannot find elsewhere.
Read this page before hiring an Auto Appraiser, it will explain to you why you should hire us for your diminished value appraisal needs.
We also offer complimentary inspection that includes a repair quality checkup and a free diminished value estimate, this is available at our Alpharetta Office only.
If you are ready to move forward, visit our cost and order pages to get started. We look forward to helping you collect the settlement and payout you truly deserve.
Schedule an inspection and appraisal.
You can call us anytime at 678-404-0455 with any questions or concerns about your DV claim.
You can hire us directly or ask the insurance company to, our goal is to help claimants like you achieve the settlement they deserve. Ask for us by name, do not settle for a substitute!
If your vehicle is declared a total loss, please visit our total loss page.