So Yelp called us the other day wanting to sell advertising. We respectfully declined as we feel there's better ROI on other sites. While checking our profile, we noticed a fraudulent review.
This review was caught in the yelp filter when it was first posted on 8/31/2012, but then miraculously appeared on our listing months later.
This is what the review said:
"Don't waste your time or money.  Use a professional.  Ask for Richard at http:// collision claims. com "

Additionally, the same reviewer (Tommy C) posted this on the competitor's listing: "Great company. Great owner.  Use them if you have an accident in Ga."
To add insult to injury, Yelp with its great wisdom, decided to filter 16 – 5 star reviews we received, making this bad review disproportionally affect our ranking . Filtered  reviews don't count toward our score.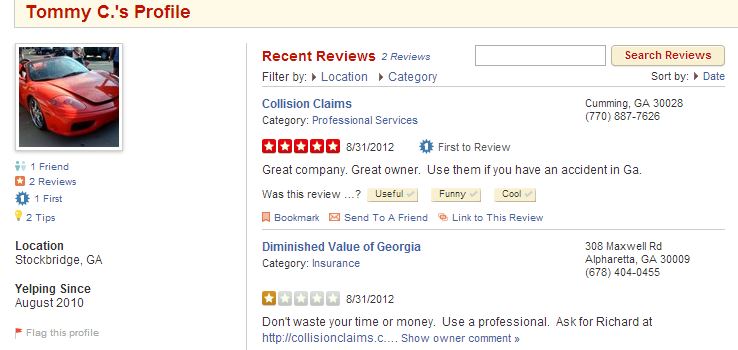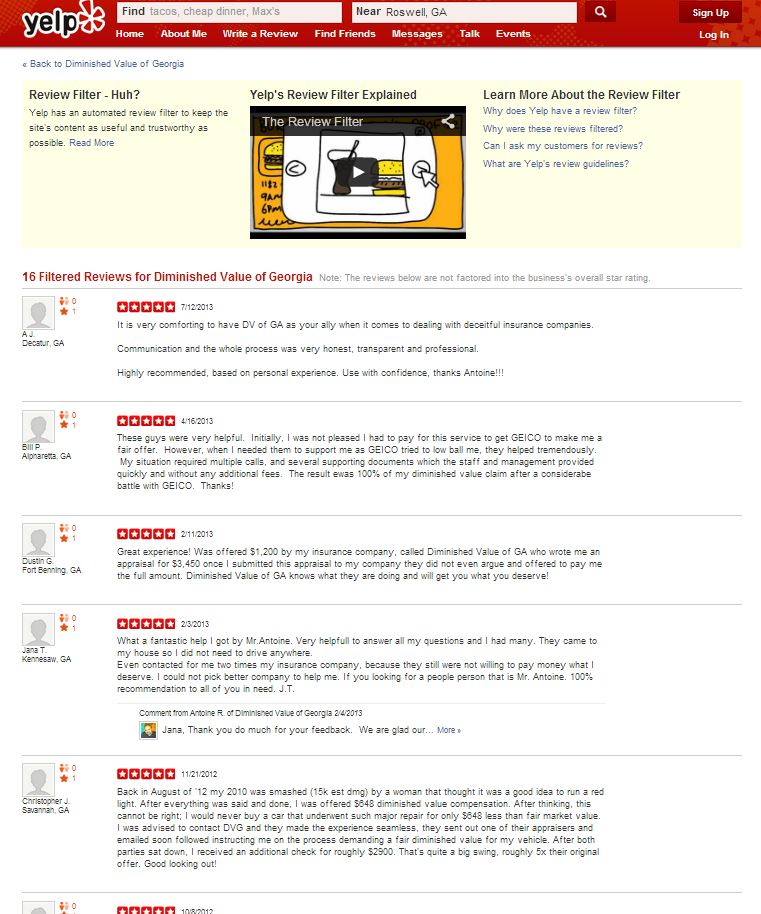 I don't know who to be mad at more, the completely flawed and unfair Yelp grading system or the unscrupulous behavior of  an unethical competitor!
I requested that yelp removes the fraudulent review, they have not yet complied.
Update:
I Just received this email from yelp – Thank you yelp!
AUG 21, 2013  |  01:23PM PDT
Hi there,
Thanks for contacting Yelp.
We wanted to let you know we've removed this review by Tommy C because it falls outside our Content Guidelines.
Given that you've already signed up for a Business Owners Account, we encourage you to take advantage of some of our features including posting public comments on your reviews. More information can be found here: http://www.yelp.com/business/review_response
Thanks for using Yelp.
Regards,
Veronica
Yelp User Support
San Francisco, California