VW-Diesel-Models-Depreciating-Faster-at-Auctions
The Black Book Market Insights report this week takes a look at the depreciation trends of specific Volkswagen diesel vehicles affected by the recent emissions/software situation. The report shows that since September 18, each vehicle has displayed a higher level of depreciation compared with its competitive gas models.
"Car values declined steeply in comparison to the trends over the last twelve weeks with mid-size cars performing the worst. Cargo mini vans continued the downward trend while full-size vans held steady."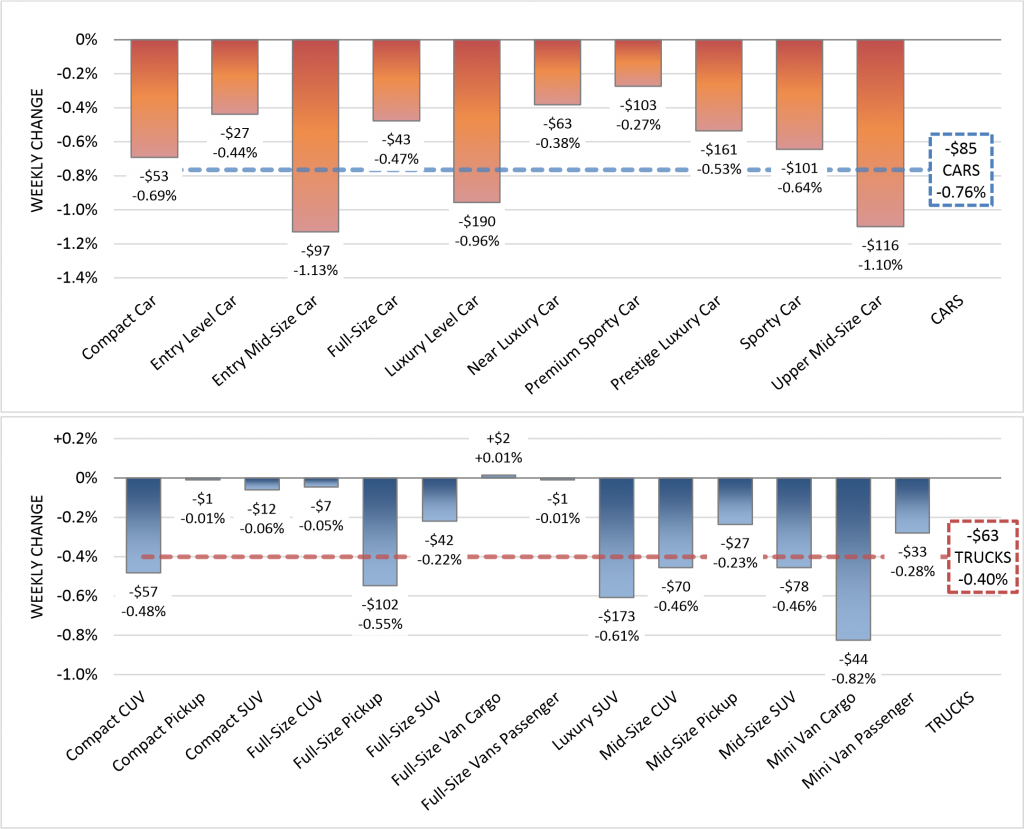 Anil Goyal, Vice President of Automotive Valuation and Analytics
Model Years: 2007-2013, Volume Weighted Wholesale Average Values, Weekly Change from 10/2/15 to 10/9/15
Car Values Decline Sharply While Truck Segments Show Wide Variation
Overall, the volume-weighted car values decreased by 0.76% last week. This is much higher than the average weekly depreciation of 0.47% seen in the previous twelve weeks.
Segments that performed relatively well last week include Premium Sporty Car, Near Luxury Car, Entry Level Car and Full-Size Car declining by 0.27%, 0.38%, 0.44%, and 0.47%, respectively.
Overall, the volume-weighted truck values decreased by 0.40% last week. This is slightly higher than the average depreciation rate of 0.29% seen in the previous twelve weeks.
Mini Cargo Vans saw the largest decline at 0.82%. Compact Pickup, Compact SUV, Full-Size CUV, FullSize Vans performed well with little change from last week.
Our editors and personnel attend over 60 auctions across the country every week to provide key insights:
"Many If-Sales and No-Sales this week." Herb from PA
"Sales at this location today were very good, even with the rain." James from TN
"Big sale today at this location as far as consignment. Car prices are a little lower but trucks seem to be stable." Mark from MI
 "Prices for Clean cars and trucks is still strong here." Norm from IL
"Buyers said today that they are just looking for vehicles to fill voids on the lot, not buying anything extra." Richard from FL
"Had a really good sale here today even though attendance and consignment were both lower than normal." Roy from NC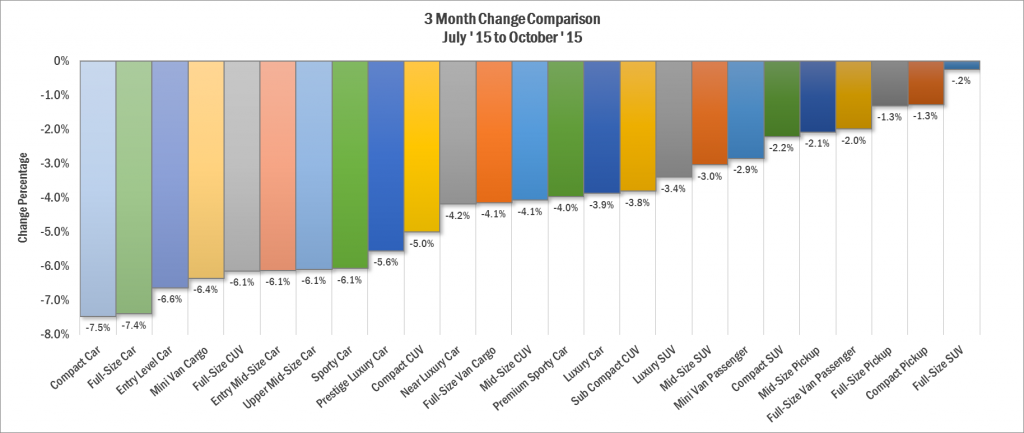 Vehicle Highlight
2016 Ford Transit Connect is available as a passenger or a cargo van. Available engines include 169-hp, 2.5 liter or 173hp, 1.6 liter. Base MSRP starts at $22,675. Main competitors include Mercedes Benz Metris, Ram Promaster City, Chevrolet City Express and Nissan NV 200.