Fake Rolls Royce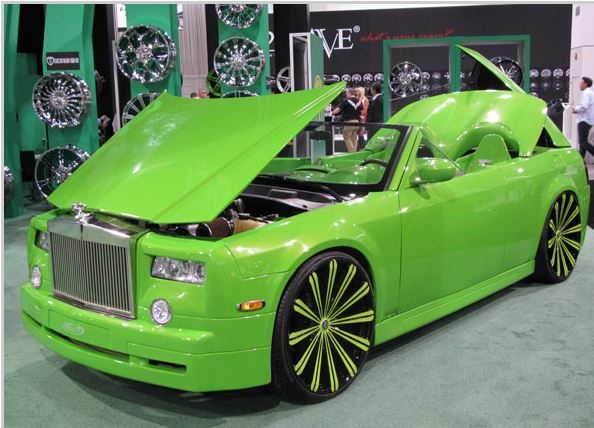 At first glance, this retina-melting lime green machine rolling on 26-inch wheels appears to be a Rolls Royce drop top. Nope. It's a Chrysler 300 with a fake Rolls grille. Even without that front end, this thing is over the top in so many ways. Have a look at the trunk for example—it opens sideways. This car seems perfect for a modern re-make of the Dolomite.
 Ugly Monster Truck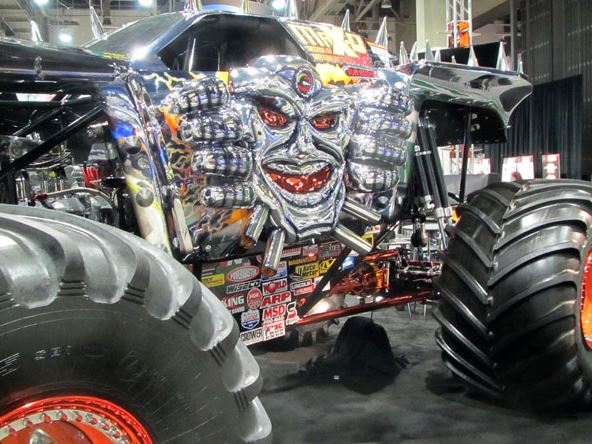 Monster trucks by definition are over-the-top, radical vehicles. But this one goes where few have feared to tread. Now, Maximum Destruction (the truck you are looking at) is a famed monster truck with an impressive tally of wins over the years. But that doesn't mean we have to like the way it looks. This abomination wears more chrome than a parking lot full of '59 Cadillacs. And that face has us wincing.
The School Bus from Hell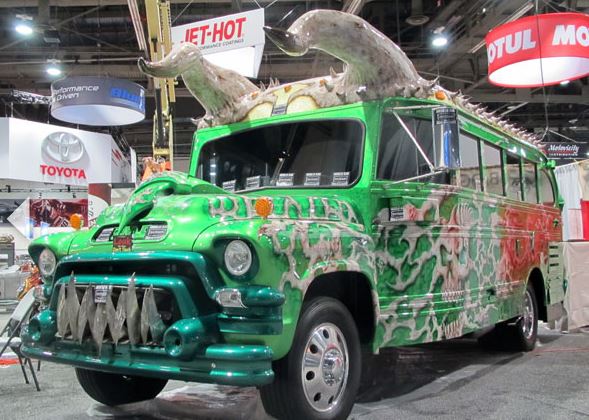 If Ken Kesey and his Merry Pranksters had taken this bus, we're guessing there would have been quite a few bad trips back in 1964. This beast is just plain frightening. Just look at those massive horns on the roof and the metal teeth in that grill. It's easily one of the craziest-looking rigs to ever hit the SEMA show floor.
The Walking Dead Zombie Hunter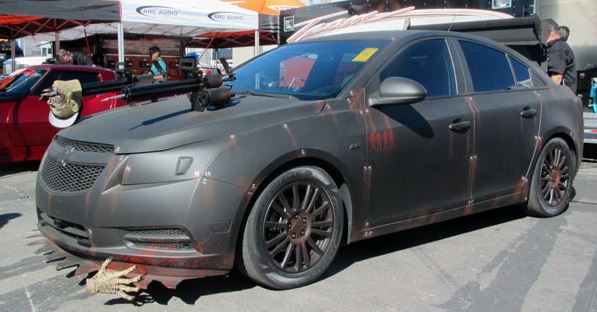 The idea of a zombie-hunting vehicle is pretty cool, and there were several of them on display at SEMA. But shouldn't a zombie hunter be a tough Jeep, Toyota Land Cruiser, or old Bronco? This is a Chevrolet Cruze compact sedan, and no one—alive or undead—runs in fear from a Cruze. The hand caught on the toothy spoiler is a fun touch, though.
Ugly Drift Miata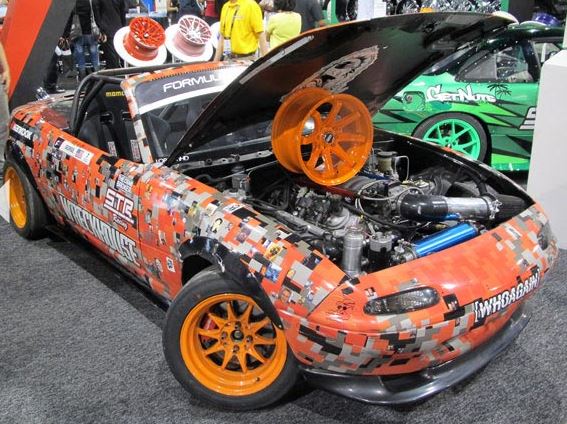 There's ugly bad, as evidenced by most of the cars in this story. But there's also ugly good. This V-8-powered Miata built for Formula Drift competition is most definitely ugly good. This might not be the look you'd want for your daily commuter, but it's actually a cool collage of images mixed with sponsor logos. Sometimes it's okay to be gaudy.