Truck Segments Vs. Car Segments:
This week, the recently downward market trend we have been seeing over the previous four weeks in car segments has taken a pause with slightly better value retention and truck segments have also shown more decline that car segments.
Car segments that showed the lowest decent this past week include the Entry Mid-Size car, Near Luxury Car & Prestige Luxury Car, each declining by 0.09%, 0.14% and 0.11%, respectively.
The truck segments that showed the best retention value last week include the compact SUV, Sub-Compact CUV, Compact Pickup & Mid-Sized Pickup.
Overall, volume-weighted car values have decreased by 0.22% from last week, which is significantly lower that the average depreciation rate seen in the previous four weeks of 0.82%
Volume-weighted truck values also decreased last week by 0.47%, which is again, much lower than the average rate of 0.63% from the previous four weeks.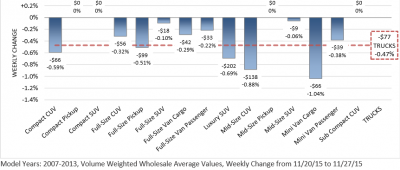 ---