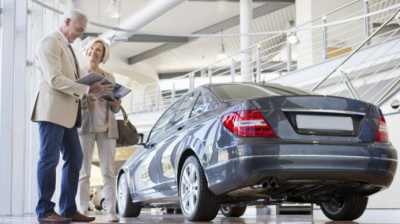 Picking out a a vehicle is one of the most important purchases a person can make.  Here is a quick 10 step guide to making the smartest choice when picking out a vehicle.
1.  Equipment
Before stepping into the dealership, every buyer should have a list of equipment they cannot live without.  For most buyers in today's market, those should probably include anti-lock brakes, electronic stability control, front and side airbags, air conditioning, Bluetooth hands-free technology, an audio system with iPod connectivity, and power windows and door locks.  Most of this equipment comes standard on new vehicles, but its always a good idea to double check just in case.
When looking at these features you may also want to check the quality of them.  There is no point paying extra for features you want if they wont stand the test of time in the long run.
2.  Options
When choosing options be careful not to get more than you bargained for.  Often times options are bunched together as "packages" and include one or two options you really want, but several others you don't want at all.  For example, you may want to have an MP3 player or ipod hookup in your vehicle, but the salesman at the dealership may try and upgrade you to the "audio lovers" package, which includes the MP3/ipod hookup, a $300 option, but also a 600 watt 10 speaker stereo with a sub-woofer that bumps the package cost to $2500.  So in cases like this, it may be better to just add the individual option that a whole package.
3.  Resale Value
Even if selling your vehicle isn't in your thoughts yet, or you don't even plan on selling your car at all, having a great resale value is always something to look at when purchasing an automobile.
By checking out sites like Kelly Blue Book (kbb.com), you can see what potential losses you will be taking in the future by calculating the resale value of the car you plan on purchasing over the next few years.  If two cars you are looking at are almost the same in every way, but ones resale value is drastically less than the others, you may want to choose that car for your purchase.  Doing this could save you thousands in the long run, and be just another factor in your decision making process that makes your decision easier.
Keep in mind, cars with "green" features are getting more desirable every year, so if you are on the fence about getting one, and resale value is very important to you, it might be a wise investment for you to go that route.
4.  Emotional Feedback
You never want to be bored in your car.  If you are a commuter, you spend weeks out of the year in your vehicle, and it should be a comfortable and fun experience for you all the time.  Before purchasing a vehicle, look online at its current owners feedback and see what they have to say about the car you are planning on buying.  If they say its more comfortable than their living room couch, you will know that the car will be great for long stressful hours in rush hour traffic.  If they say it has "catlike agility", you know that every turn you make in that car will have you smiling.  Nobody wants their drive to be monotonous boring.
5.  Insurance Costs
Depending on your driving record and the type of car you are purchasing, insurance costs can be vastly different.  Obviously, sports cars carry a higher premium than mini vans, but certain options your car has can affect your insurance costs in a big way.  Just to name a few, airbags, anti-lock brakes and passive seat belt restraint systems can reduce your yearly premium by hundreds of dollars.  Also, even though you are saving on gas prices, electric vehicles and hybrids tend to carry a heavy premium because repairs are more specialized and there is a higher cost to fix them.  Heavy duty trucks also cost a lot because of the amount of damages they cost when wrecked.
6.  Fuel Efficiency
How many miles per gallon your car gets is a top priority in buyers in today's economy, but its not as important as one might think.  An additional $122 a year is needed in your budget for every MPG you lose when comparing MPG's of the vehicles you are looking at.  So unless there is a difference of about 5+ MPG, it is really nothing to get stressed over.  However, if one vehicle you are looking at gets 35mpg, and the other gets 18mpg, there is is going to be a savings of $2000 a year if you pick car number one.
7.  Safety Rating
Safety while driving your vehicle is a really important issue, especially when you have children in the car.  While everyone always feels safer in a bigger SUV, it is good to know that recent technologies have made even the smallest vehicles safe to be in.  For safety test information and ratings, you can go to nhtsa.gov, iihs.org, safecar.gov.
8.  Financing Rates
Knowing your credit score and keeping it in good standing is the most important factor in financing a vehicle.  Scores above 720 generally let buyers have an interest rate between 3-4%.  However, scores below 620 will leave buyers with interest rates usually between 10% and the state allowed maximum, sometimes upwards of 30%.
9.  Rebates and Incentives
Some amazing discounts are available in today's depressed car market. Offers are usually posted on automakers' websites. Rebates and cash incentives are given to military personnel, loyal customers, recent college graduates, teachers, law enforcement officials and others.
They are even offered just for walking through the front door. Typically, these buyers are given a choice between a low finance rate or cash back, but rarely both. The catch is you'll need good credit to qualify for the low rate. All buyers, no matter their circumstance, will get the "cash back" incentive.
10.  Warranty
Generally speaking, warranties cover defects in material or factory workmanship, under normal use and maintenance. Automakers are offering warranty durations from three years/36,000 miles up to 10 years/100,000 miles.  Not all warranties are created equal.  The most quoted warranty is for the powertrain. But automakers also offer new-vehicle warranties that cover items such as the audio system, exterior paint, air conditioning, battery, and rust corrosion.  Its your best bet to try to find makers that offer warranties on both.