This week's Market Insights report shows both car and truck segments decreasing more in value than usual. Although car segments saw an overall larger depreciation, two truck segments saw larger price declines as a percentage than any of the car segments. The report also spotlights the latest Retention Index, as well as monthly specialty updates.
"Depreciation rates increased on both car and truck segments as buyers become hesitant to load up on inventory."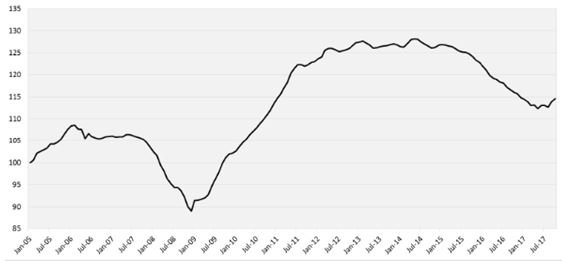 Retention Index Chart
The Retention Index increased 0.6% to 114.6 from 113.9 in the previous month. The index has shown positive gains driven by the short-term replacement of vehicles damaged by the recent hurricanes. Full-Size Pickup segment, one of the strongest retention segments, registered a 4.3% gain on a YOY basis.
Significant Increase in Weekly Depreciation (PDF)
WEEKLY CHANGE
Model Years: 2009-2015, Volume Weighted Wholesale Average Values, Weekly Change from 10/27/17 to 11/3/17
Significant Increase in Weekly Depreciation Last Week
Volume-weighted, overall car segment values declined by 0.60% last week. In comparison, the market values had decreased on average by 0.41% per week in the previous four weeks.

Among cars, Full-Size Car and Sporty Car segments performed the worst, decreasing by 0.94% and 0.82%, respectively.

Volume-weighted, overall truck segment (including pickups, SUVs and vans) values decreased by 0.40% last week, worse than the average decrease of 0.25% per week in the previous four weeks.

Among trucks, Sub-Compact Crossover and Compact Van segments performed the worst last week.
RV Values at Auctions Continue to Rise
"The values of both motorized and towable units sold at wholesale auctions increased once again this past month, which, as we said last time, is unusual for
this time of year. I believe the unexpected strength is a combination of factors: RVs are red hot right now, the economy is strong (the Dow recently exceeded 23,000) and the number of late model, good condition RVs running through the auction lanes is way up when compared to previous years.
Motor Home Value Trends
Feb Mar Apr May June July Aug Sept Oct Nov Dec Jan-17
Feb Mar Apr May June July Aug Sep
For Motor Homes (including Class A, B, and C)
Average selling price was $48,537, up $475 (0.9%) from previous month

One year ago, the average selling price was $44,597

Auction volume was unchanged from the previous month

TVs are the highlight this month; they're up 2.5%, finally showing a bit of their traditional fall pricing strength. This contrasts with the Utility Vehicles, which are down 1.4%.

The biggest percent change this month is in the Scooters, a highly seasonal segment that typically sees big declines once the summer riding season is over, and is down 4.5%.

Street bikes were the second biggest decliners, dropping 2.6%, while the other main road going segments, the Dual Sports and the Cruisers, performed much better, only losing 1.8 and 1.1% respectively.

We are still waiting for the Snowmobiles to show a larger increase in values, but these units are just now beginning to show up at the auctions in significant volume.

Values Drop, But Not Too Much as Equipment Gets Added or Replaced

"A good supply of units in several segments helps to maintain steady depreciation in October. Construction/Vocational group values have dropped the most since August, but still bring strong numbers!"

Monthly Change

The values of very old trucks drop the most, mainly because of miles and condition as these units age. There are still some nice Pre-emissions units being offered for sale and since the trips they are generally used for are shorter, they have a lot of useful life in their future. The newer trucks in this segment (2007- 2014) and the Late Model Segment (2015-2016) get more money when they are in good shape and the miles are low. As the cost of maintaining emissions equipment still being scrutinized, the rougher newer high mileage trucks drag down the overall average sale price more than in the past.
Late Models Depreciating Less Than Older Units
"The Wholesale Market continues its downward trend; however, some
Late Model Unit prices have stabilized." Josh Giles – Senior Truck Editor
Overall, the Medium Duty segments continue to depreciate as we get closer
towards the end of the year. However, some new units are holding their values well at auction. Reports are indicating that retail sales were pretty steady throughout the month. With delivery and construction units in high demand, we expect these segments to stabilize even more as we close out 2017. This past month the Late Model Units (2016 – 2015) depreciated an average of $301 (0.6%), which is better than the $332 drop we saw in September. The Older Year Models (2007-2014) dropped an average of $177 (0.9%) in October, which is slightly more than drop we witnessed in September when prices fell an average of $167. This is the fourth month in a row where we have seen a slight increase in depreciation on the older model years. It's going to be interesting to watch this segment grow over the next couple of years as they increase in popularity due to the increase in deliveries all across the country. We are experiencing a shift from mom and pop stores and physical locations to online purchasing and home delivery.