Missouri Insurance Commissioner Complaint
Missouri Insurance Commissioner Complaint Information
The Missouri Division
The Missouri Division provides consumer information and investigates consumer complaints against insurance companies and producers for most types of insurance. The Division works to respond promptly and completely to consumers' insurance-related questions and complaints, assist consumers in resolving those complaints whenever possible, and help consumers understand their options in handling insurance-related matters.
Download a complaint form to mail or fax:
Missouri Department of Insurance Complaint Form – pdf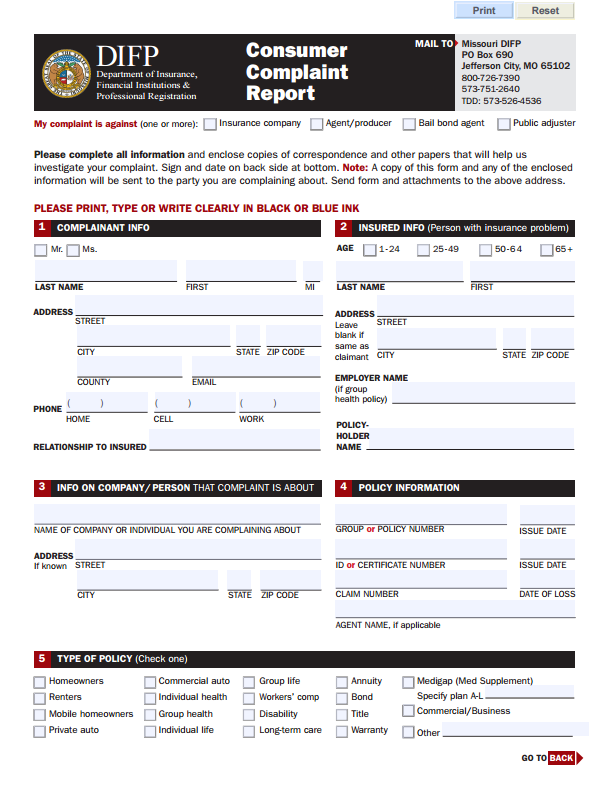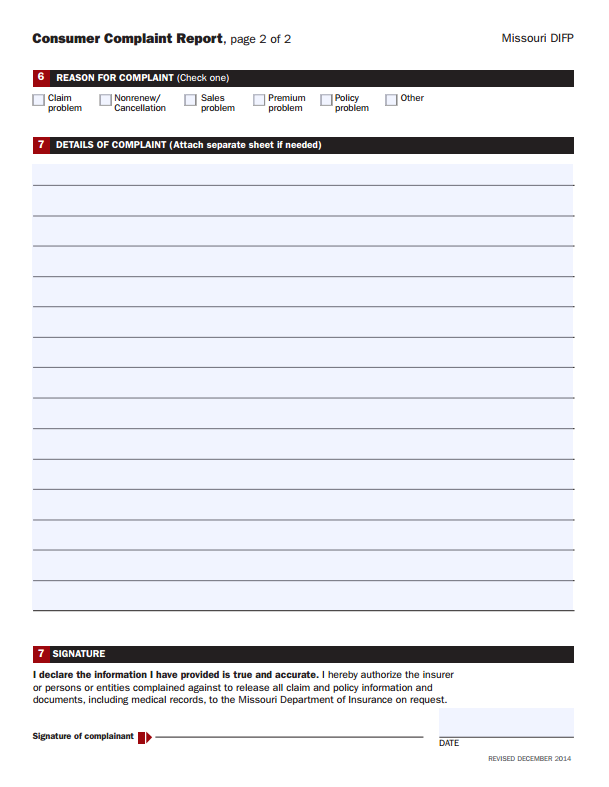 Can Do:
Forward a copy of your complaint to your insurance company and require the company to provide a response/explanation.
Review the company's response for compliance with applicable Missouri insurance law and policy requirements.
Require the company to take corrective action if we determine that the company's position does not comply with Missouri insurance law.
Help you understand your insurance policy.
Recommend courses of action that you can take to resolve your problem, if we do not have the regulatory authority to resolve it ourselves.
For all health plans, we can assist you in filing your first- and second-level grievance and appeals.
Use a process called external review to resolve disputes with your insurance company, if the dispute is medical in nature. For example, the dispute could be about whether a service is medically necessary.
Can't Do:
Recommend an insurance company, producer (agent) or insurance policy.
Identify what company a particular person or business has an insurance coverage with.
Act as a legal representative or give you any legal advice.
Intervene in a pending lawsuit on your behalf.
Consult with you if you are represented by an attorney unless we have your attorney's written permission.
Regulate or discipline plans or companies that are not subject to the insurance laws of Missouri or that are governed by other state agencies (see "Health plans we do not regulate" below).
Regarding a dispute between you and your insurance company, establish:What medical care is necessary or appropriate.
Who was negligent or at fault.
The value of a claim or the amount of money owed to you.
The facts surrounding the claim or insurance transaction – who is being truthful when there are differing accounts of what happened.
The facts regarding any other disagreement between you and another party
Health plans Missouri do not regulate
State employee health plans – Missouri Consolidated, Highway Patrol, MoDot, Conservation
Self-funded employee health benefits plans – if you don't know whether your health plan is self-funded (also known as self-insured) or if you are concerned about the legitimacy of your health plan, we will try to get information to answer your questions.
Federal employee health plan
Medicare
Medicaid
Workers' compensation claims
For assistance with these plans, see Filing complaints against health plans not regulated by DIFP.
Before filing a complaint
Contact the insurance company or agent and bring the problem to their attention. Document your phone calls by noting the name of the person you speak to, the date of the call and a brief summary of the conversation. Keep copies of all written communications with your insurance company or producer.
If you are not satisfied with the response, contact the Division of Consumer Affairs for assistance. We have staff available to answer general questions at 800-726-7390. You also can file a complaint with our division so we can investigate the situation on your behalf.
How to Mail or Fax a complaint
Fax to 573-526-4898
Mail to P.O. Box 690, Jefferson City, MO 65102-0690.
Keep your originals and send only copies of information.
When your complaint is received, a tracking number will be assigned and you will be sent written confirmation. Please refer to the tracking number when you call or write to the division.