Maryland Insurance Commissioner Complaint
Maryland Insurance Commissioner Complaint Information
File A Complaint
The primary role of the Maryland Insurance Administration is to protect consumers from illegal insurance practices by ensuring that insurance companies and producers that operate in Maryland act in accordance with State insurance laws. We are here to assist you with your insurance inquiry or complaint about health, life, property and casualty insurance.
Frequently Asked Questions: Appeal Hearings
Our Rapid Response Program is designed to help certain consumers resolve property and casualty claims (such as auto and homeowners claims including those made under commercial lines policies) quickly and without having to file a formal written complaint.
For more information, call us at 410-468-2340 or 1-800-492-6116 select option 3, then option 1.
Participation in the Rapid Response Program is voluntary and does not affect your rights to file a formal complaint.
File a Complaint About:
Your HEALTH or LIFE Insurance
Your AUTO, HOME or Other Property Insurance
An Insurance Professional or Authorized Insurance Assistance Personnel
Electronic Form
https://www.apps.insurance.maryland.gov/complaints/jsp/complaints/PcComplaintInfo.jsp?mode=true
Mail or Fax Form
Maryland Department of Insurance Complaint Form – pdf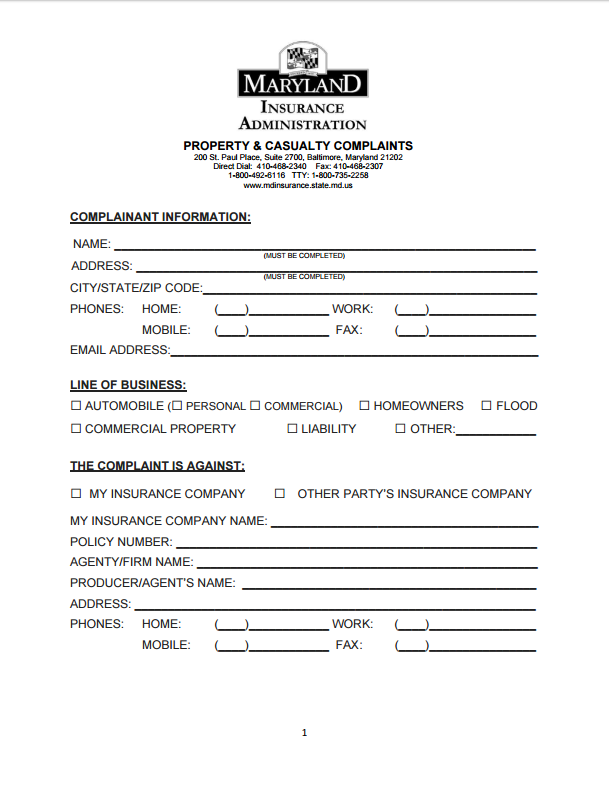 Forward a copy of your complaint to the insurance company, if appropriate;
Obtain information or explanations on your behalf from the insurance company or their representatives. This may involve written and verbal contact with such companies or persons;
Review in detail the information obtained from the company for compliance with statutes, regulations and policy contracts;
Explain the provisions of your insurance policy, as appropriate;
Suggest to you actions or procedures that you may take which could aid in resolving your insurance problem;
If it is determined that the actions of an insurance company are in violation of a statute, regulation or policy that the Administration enforces, we may take corrective action against that company.
Cannot do:
Assume the role as your legal representative, in or out of court;
Intervene in a pending lawsuit on your behalf;
In the case of disability insurance complaints, make a medical decision as to the extent of an individual's disability. We investigate complaints involving disability insurance to determine (1) whether or not the denial decision is arbitrary or capricious and (2) whether or not the denial decision was rendered in accordance with the terms of the insurance contract and State insurance laws and regulations.
Address complaints or inquiries involving insurance contracts that are not subject to the jurisdiction of the insurance laws of the State or matters governed by other State or Federal agencies. This would include the following:
Self-funded or self-insured plans
Medical Assistance (Medicaid)
Medicare and Medicare HMO's
Federal Employee Health Benefit Programs
Uniform Services Family Health Plans
Workers' Compensation
Contracts issued and delivered to the policyholder in another state.
Review more information about the Maryland Insurance Administration's jurisdiction .
Make a decision as to disputes between you and insurance companies or their representatives which involve deciding matters as to:
Who is negligent or at fault;
The facts surrounding the claim (that is, who might be telling the truth in the matter when accounts of that matter differ);
The value of a claim or the amount of money owed to you; or
Any other factual disagreements between you and another party, unless the dispute involves a violation of law;
Ask the Motor Vehicle Administration to "hold" a fine pending the investigation of your complaint.
Contact Information
Maryland Insurance Administration
Attn: Consumer Complaint Investigation
(indicate if complaint is regarding Life/Health or Property/Casualty Insurance)
200 St. Paul Place, Suite 2700
Baltimore, MD 21202
Phone: 410-468-2000 or 1-800-492-6116
TTY: 1-800-735-2258
Fax: 410-468-2334 or 410-468-2307 (Property and Casualty)
410-468-2270 or 410-468-2260 (Life and Health/Appeals and Grievance)