Iowa Insurance Commissioner Complaint
Iowa Insurance Commissioner Complaint Information
Complaint Information Checklist
For our staff to begin evaluating and analyzing your request, specific information is necessary. Review the following checklist to ensure you are providing the necessary information. Be sure to include a detailed summary of the problem and attach copies of documents supporting your claim. Failure to provide this information may delay or limit our ability to help you.
-A detailed summary of the problem
-Your name
-Complete address
-Daytime telephone number
-Cell phone number if available
-Email address if available
-Insurance company issuing the policy
-Type of insurance coverage (examples):
-Automobile
-Life
-Homeowner
-Crop
-Health
-Annuity
-Medicare supplement
-Long-term care
-Disability
-Other insurance types not listed
Important Note: If you are making a complaint on behalf of someone else, you must also provide an acknowledgment letter from the person who owns the policy granting you permission to inquire into the matter.
Electronic Form
The best way to file the complaint is through the insurance commissioner's website:
http://www.iid.state.ia.us/file_a_complaint/online_form
Mail Form
Iowa Department of Insurance Complaint Form – pdf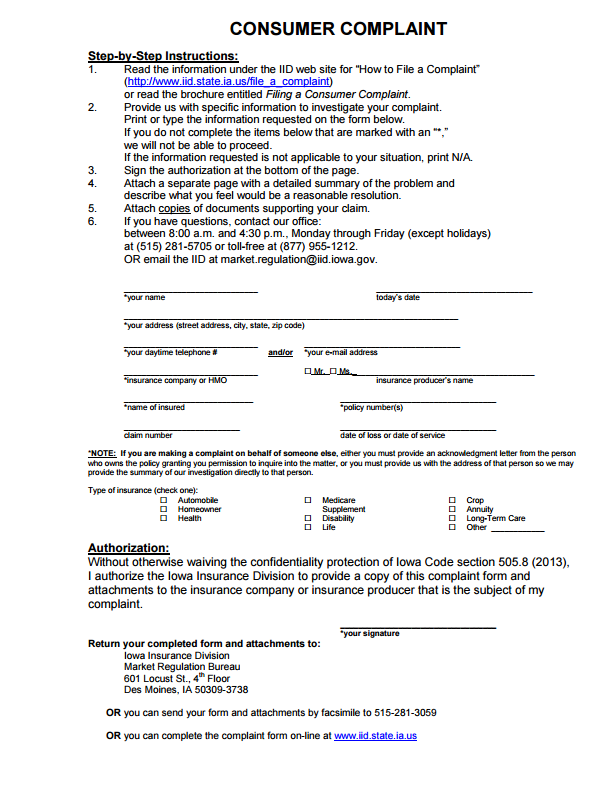 Send to:
Iowa Insurance Division
Market Regulation Bureau
601 Locust St., 4th Floor
Des Moines, IA 50309-3738