Arizona Insurance Commissioner Complaint
Insurance Commissioner Complaint Arizona Information
If you are not sure whether the Arizona Department of Insurance is the right place for your question or problem, contact our Consumer Affairs Division:
Phone: (602) 364-2499 or (800) 325-2548 (in Arizona but outside Phoenix)
Phone Hours: 8:00 a.m. and 4:00 p.m., Mondays through Fridays (except state holidays)
Email: consumers@azinsurance.gov
Arizona Fraud Referal Form – pdf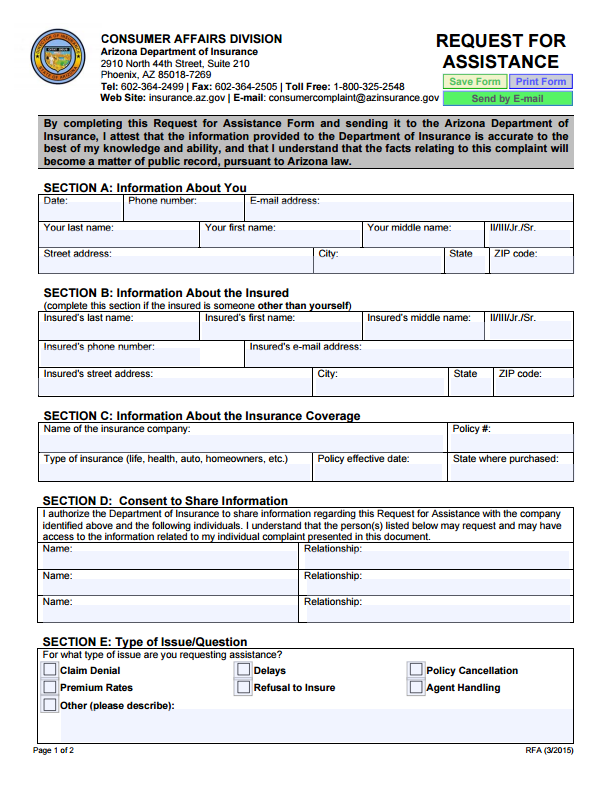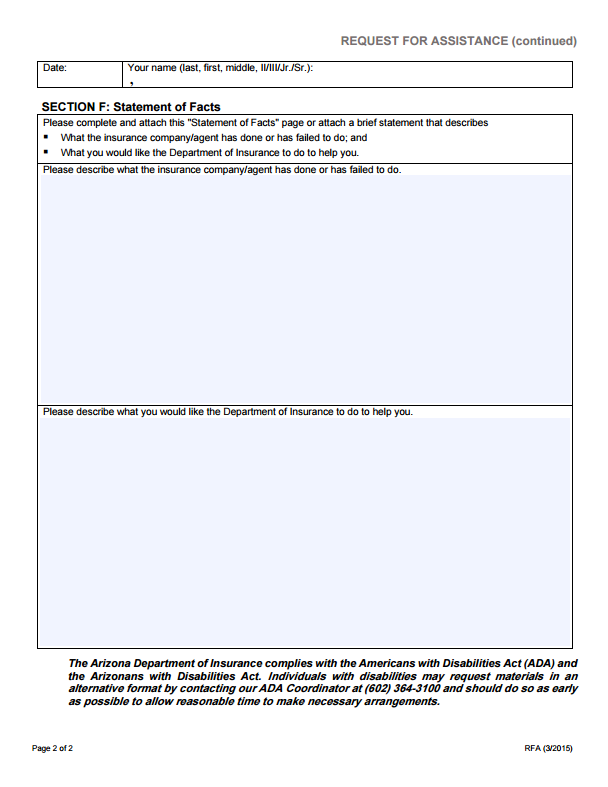 If you are unable to resolve your insurance issue/problem with your agent or insurance company or if you believe your agent or insurer has acted illegally, you can file a complaint with our office.
Please note that facts relating to complaints that we receive become public records pursuant to Arizona law.
To file a complaint, complete and print the Request For Assistance Form. Then provide the completed form (with copies of any letters, notices, receipts or other documents supporting your complaint) to our office by scanning the documents and sending them by email:
toconsumercomplaint@azinsurance.gov
(NOTE: Email may not protect confidential information)
Faxing the documents:
(602) 364-2505
Sending or delivering the documents:
Consumer Affairs Division
Arizona Department of Insurance
2910 N. 44th Street, Suite 210
Phoenix, AZ 85018-7269
Fraud:
Insurance fraud occurs when individuals deceive an insurance company, agent or another person to try to obtain money to which they are not entitled. It happens when someone puts false information on an insurance application and when false or misleading information is given or important information is omitted in an insurance transaction or claim.
Insurance fraud is committed by individuals from all walks of life. Efforts of the Insurance Fraud Unit have resulted in convictions of doctors, lawyers, chiropractors, car salesmen, insurance agents and others who have committed fraud.
Insurance fraud can be "hard" or "soft."
Hard Fraud: Someone deliberately fakes an accident, injury, theft, arson or other loss to collect money illegally from insurance companies. Crooks often act alone, but increasingly, organized crime rings stage large schemes that steal millions of dollars.
Soft Fraud: Normally honest people often tell so-called "little white lies" to their insurance company. Many people think it's just harmless fudging. But soft fraud is a crime and raises everyone's insurance costs.