Alaska Insurance Commissioner Complaint
Alaska Insurance Commissioner Complaint Information
Alaska Complaint Form – pdf
You can file the complaint either by filling out the form and mailing it to the insurance commissioner's office:
9th Floor State Office Bldg.
333 Willoughby Avenue
Juneau, Alaska 99801
Main Phone (907) 465-2515
Or Fax: (907) 465-3422
The best way to file the complaint is through the insurance commissioner's website: File a Consumer Complaint Online
There will be fields to fill out about your insurance company, claim number etc..  Good Luck.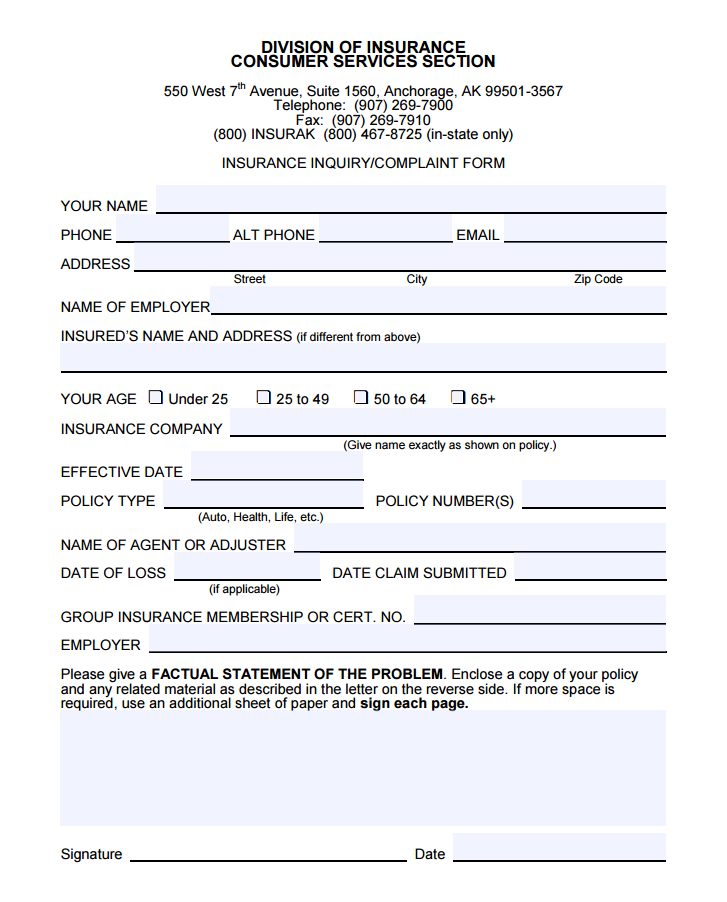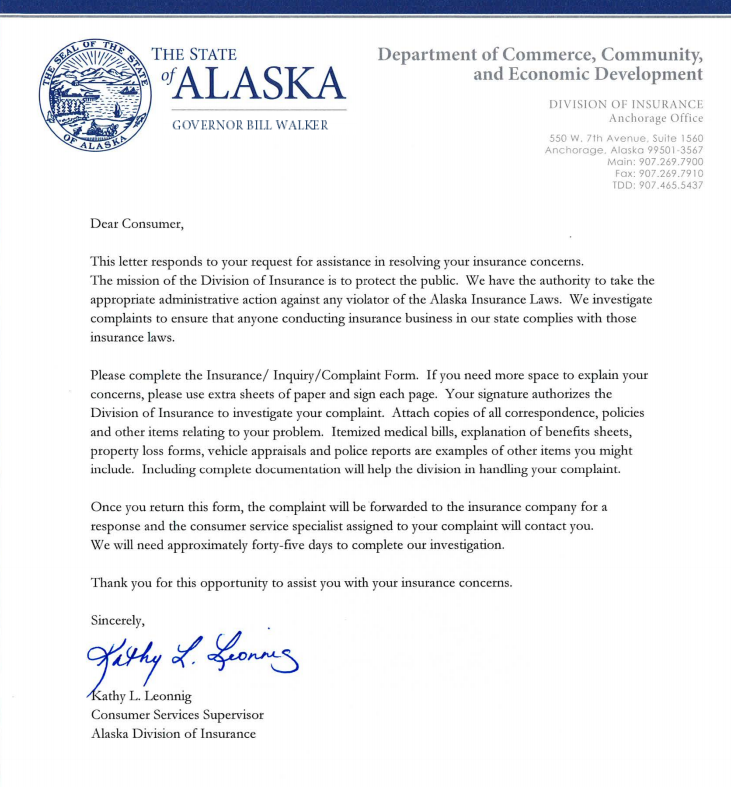 About Filing a Complaint
The Division of Insurance enforces Alaska insurance laws and assists consumers directly by responding to insurance inquiries and investigating complaints against insurance companies and producers. The Consumer Services section of the Division is located in the Anchorage office and is responsible for handling consumer complaints and inquiries.
Before contacting Consumer Services with a complaint discuss your issues with your insurance company or producer. If you do not receive a satisfactory response from the insurance company or producer, contact the Consumer Services section at (907) 269-7900 or send an e-mail to insurance@alaska.gov. A member of the Consumer Services section will discuss your complaint with you and if appropriate, request that you open a formal complaint.
A Consumer Service specialist will review the submitted complaint information, which should include copies of any correspondence, policies, or materials relating to your insurance problem, such as itemized medical bills, explanation of benefits sheets, property loss forms, vehicle appraisals, policy reports, etc.
If a violation of Alaska insurance law is found, the Consumer Service specialist will request that the insurance company or producer correct the problem. If no violation of Alaska law is found, a Consumer Service specialist will close the complaint. In each case, you will receive a written response directly from the company or from the Consumer Specialist regarding the results of the complaint investigation.
What the Alaska Division of Insurance Can Do For You
Protect you by enforcing Alaska's insurance laws
Provide you with consumer information
Investigate your complaints against companies or agents
What the Division of Insurance Cannot Do for You
Give you legal advice, act as your lawyer or interfere in a pending lawsuit
Recommend one insurance company or agent over another
Decide disputes based on who is negligent or at fault
Determine the facts surrounding a claim (that is who might be telling the truth in a matter when accounts of that matter differ)
Resolve a complaint if the only evidence is your word against the word of others
Types of Complaints
Sales/Policyholder Services
Claim Delays/Denials/Unsatisfactory Settlements
Premium Rates/Refunds
Other Insurance-Related Disputes
Cancellation/Non-Renewals
Frequently Asked Questions:
What should I send with my complaint form?
Documentation may be sent by postal mail or electronically.
Letters you have written to the company or agent dealing with the problem
Letters you have received from the company or agent
Other letters written about the problem, that is, from your doctor or lawyer
A copy of your policy or the excerpt from your benefits handbook that covers the situation
Relevant sales literature or worksheets
For a Health complaint, your insurance ID card (copied front and back) if possible
The claim you filed, if applicable
NOTE: Documentation supporting your complaint must be received by the Division within 10 days after the complaint is filed. Lack of documentation will cause your complaint to be closed.
What happens after the Division receives my complaint?
Within two weeks of filing, you should receive an acknowledgement letter stating:
your file number
the name of the consumer service specialist assigned to investigate your complaint
The Division will send a copy of your complaint to the company or other appropriate party and ask for an explanation of their position.
Your specialist will review all responses received to assure the problem has been properly addressed. This may result in more letters or phone calls between the examiner and the company or other parties.
Your specialist will send you a letter with the investigation results
if no evidence of a violation is found, the specialist will so advise and explain why the investigation is being closed
if your specialist is not satisfied with the company's response, the investigation will continue
What can I do if my issue falls outside the Divisions regulatory authority?
You may have additional appeal, complaint or legal recourse available to you. You may find it helpful to review the following Alaska Department of Law web page. This page contains a helpful list of other agencies and businesses which may serve as additional resources to address consumer complaints.
If you determine that your complaint is an issue with a medical provider rather than an insurance company the Alaska State Medical Association's grievance committee may be able to assist you.
Division of Insurance Consumer Services in-state Toll-Free Hotline 1-800-467-8725 or 1-800-INSURAK
If you require hearing assistance, please call Alaska Relay at 711.