Get a Carfax Report for Free, here's how:
As I was doing some keyword research on Google Adwords, I realized that while the search term "carfax" is being googled 368K times per month, the term "Carfax Free" and its variants was being searched 67K times per month.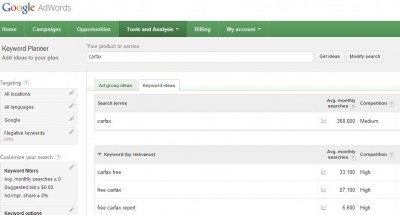 Why are all these people searching for a free Carfax I wondered? The answer is simple, Carfax is too expensive.
A single Carfax report is $39.99; compare that to $4.99 from websites like vinaudit.com and you can see why many people want to get a free or at least a reasonably priced alternative.
Carfax spends millions of dollars per month marketing and advertising its product, "The Carfax history report". Carfax spends per week more than its competitors spend in a year in advertising. This has created a de-facto monopoly on history reports and made the word Carfax synonymous with history reports, the same was Kleenex is synonymous to tissues.
So what is a vehicle history report and where can you get it?
History report companies are aggregators of public domain data. The history report is composed of three main components:
A VIN decoder showing the vehicle specs and associated manufacturer provided data
National Motor Vehicle Title Information System (NMVTIS) data
Accident reports as provided by police reports or the NICB
What is the NMVTIS data?
Several businesses and agencies are required to regularly report specific information to NMVTIS. These entities include:
State motor vehicle titling agencies.
Insurance carriers (including some self-insuring entities).
Auto recyclers and junk and salvage yards (including scrap vehicle shredders and scrap metal processors, as well as "pull- or pick-apart yards," salvage pools, salvage auctions, and other types of auctions, businesses, and individuals that handle salvage vehicles (including vehicles declared a "total loss")).
What kind of information will you receive in a NVMTIS vehicle history report?

NMVTIS records provide:
current and previous state of title data
title issue date
latest odometer data
theft history data (if any)
any brand assigned to a vehicle and date applied
salvage history, including designations as a "total loss" (if any)
Who are the NVMTIS approved vendors?
AutoDataDirect, Inc
CheckThatVIN.com
CVR
DMVdesk
Carfax
Autocheck (Experian)
Mobiletrac LLC
RigDig
VinAudit.com
VINSmart
Compiling your FREE Carfax Report
The reason most buyers ask for a carfax is to check if the vehicle had previous accidents. keep in mind, Carfax is not foolproof, it depends on public data to be reported in order for it to be accurate. So, if an accident happened and no police report was issued, carfax will remain clean.
Note: the links below are disabled – please copy and paste into your browser.
Use a Free decoder

(decodethis.com)

to get the vehicle details
Lookup if the vehicle was reported as a Lemon

(http://www.carfax.com/cfm/general_check.cfm?partner=car_8)

Pull a Free NICB VIN check

(https://www.nicb.org/theft_and_fraud_awareness/vincheck/vincheck) to check for salvage or theft)

Check the SafeCar Database for airbag deployment

)

Check your local state/county/city police report records

(www.buycrash.com)

for accident history
The advantage of having an aggregated report is to check police reports through multiple jurisdictions, that is the killer feature of history reports. If you don't want to spend hours looking through multiple state databases, we suggest choosing a Carfax alternative, its the same data after-all!
shows consumers how to compile a free carfax report.