Best Market Performance in Nine Months
Volume-weighted, overall car values decreased by 0.35% last week. This is better than the averagedepreciation rate of 0.43% seen in the previous four weeks.
In car segments, Premium Sporty Car, Prestige Luxury Car, Sporty Car, and Near Luxury Car segmentsdeclined the most, dropping by 0.75%, 0.59%, 0.56% and 0.54%, respectively.
Volume-weighted, overall truck values decreased by 0.20% last week. This is better than the averagedepreciation rate of 0.42% seen in the previous four weeks.
In truck segments, Sub-Compact Crossover, Full-Size Van, Full-Size Crossover/SUV and Mid-Size LuxuryCrossover/SUV segments declined the most, dropping by 0.70%, 0.55%, 0.49% and 0.48%,respectively.
Monthly Depreciation by Segment (1/1/17 – 2/1/17)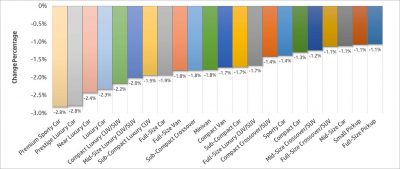 Overall depreciation across all vehicle segments was at 1.5% last month. Luxury cars and crossovers performed the worst with more than 2% depreciation whereas compact cars and mid-size cars performed better than average.
Classic Cars: Notable Recent Auction Sales Include:
1958 Cadillac Eldorado Brougham $170,000 (RM)
1969 Ferrari 365GTS Spider $3,600,000 (RM)
2013 Bugatti Veyron Super Sports Coupe $2,000,000 (RM)
1956 Porsche 356A Speedster $528,000 (Bonhams)
2011 Ferrari 599 SA Aperta Spider $1,485,000 (Gooding)
1955 Mercedes 300SL Gullwing $1,457,000 (Gooding)
1955 Lancia Aurelia B24 Spider America $1,100,000 (Worldwide)
1970 Oldsmobile 4-4-2 W30 Coupe $165,000 (Russo and Steele)
1954 Mercedes 300 S Cabriolet $423,500 (Russo and Steele)
1969 Maserati Ghibli SS 4.9 Spyder $920,000 (Mecum)
Motorcycle & Powersports Percent Change January to February 2017

The Powersports Market is off to a slow start this year as auction activity and pricing, which usually begin to pick up steam sometime between December and January, have remained relatively flat so far this year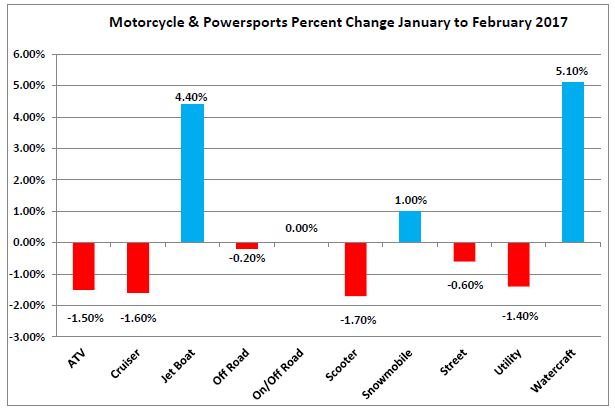 Oddly, considering the time of year, most of the on-road segments are down a bit this month, though the dollar amounts are not huge. Not all of the reasons for this are known, but at least one contributing factor is likely the uncertainty surrounding many areas of the government and economy as we transition to the new administration.
Last month Polaris announced the cancelation of the entire Victory motorcycle line. It is too early for this to have had an impact on values listed in the guide, but it is sure to affect things moving forward.
There is one rather unique item to note this month: both the Snowmobile and the Personal Watercraft and Jet Boat segments are up simultaneously. Given their seasons are somewhat at odds, it is rather rare for this to occur. The Snowmobiles are up by a little over one percent as they are still in season, while the Personal watercraft and Jet Boats are up between four and five percent due to dealers adding inventory for the coming Spring selling season.