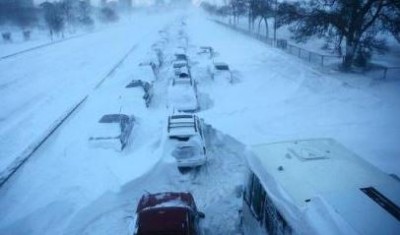 In January 2011, Atlanta was hit with a massive snow storm, the whole city was offline for about 5 days. Elected officials declared that their departments were unprepared for that storm but will put systems in place for the next time.
So, here you are, 3 years to the dot and it happens again, Atlanta is brought to its knees with traffic lines lasting on average 5 hours. On some highways, motorists were stranded overnight.
The reasons this happened again:
Poor coordination between the multiple jurisdictions covering the Atlanta Metro Area
The school systems decided to have a school day
Poor preparation from the Georgia Department of Transportation
Poor preparation from the various cities and municipalities
Lack of resources and competent personnel
People were let go from their jobs all at the same time
Atlanta roads don't have enough capacity
I was talking to a friend of mine who lives in Boston, he was laughing at our situation. It's sad for America's 9th largest metro area to fall into chaos over 2.5 inches of fluffy snow.
As I was driving home from my office (4.5 mile trip took me 3 hours), I was stopped ahead of a bridge by an Alpharetta police officer, I was the first car and could see the carnage in front of me, the bridge was a solid sheet of ice and multiple motorists wiped out ahead of me and are now parked sideways on the bridge.
Thirty minutes go by and the Alpharetta fire department shows up and clears the road fairly quickly, but I still couldn't cross as they have not yet cleared the bridge from ice. After waiting another 10 minutes or so I crack my window open and attempt to talk to the office who was not in a good mood (understandably), he ignores me for a few minutes but then angrily approaches and informs me that they "ran out of salt".
This exact situation must have occurred in the Atlanta Metro 100 more times, I was lucky and was able to cross the bridge an hour after it was shut down, others were not as lucky.
Many motorists left their vehicles on the side of the road as they ran out of gas or simply couldn't bare the frustration, towing companies were towing vehicles non-stop to their yards.
The problem with towing companies especially when in a rush is the fact that they don't strap vehicles well or attach their hook to the engine cradle or cross-member causing incidental damage to the structure of the vehicle.
The GA DOT has identified 6 towing companies responsible of moving vehicles from roadways they are:
A-Tow: 404-577-8950
Barrow's: 770-435-8945
Southside: 770-964-8220
Lance Wrecker Service: 770-279-8424
Marietta Wrecker: 770-953-1176
Sosebee's: 404-361-6349
Towing companies are cashing in on this tragedy and charging motorists up to $200 for towing or moving their vehicles.
If you suspect structural or undercarriage damage to your vehicle caused by tow truck drivers not properly strapping your vehicle while in tow, you need to file an insurance claim and get the vehicle repaired right away.
Vehicles can sustain structural damage when improperly towed or pulled, to determine if such damage exists take your vehicle to the closest body shop or dealer for an inspection. If damage is found, you may be entitled to Diminished Value.
Obviously, if you had an accident, your repair will qualify you for Diminished Value as well. Please visit our do I qualify page to learn more.
If you're one of the unfortunate drivers who's cars were totaled, remember, you don't have to accept the insurance company's valuation, always hire your own appraiser if you suspect that their offer is too low. Visit our total loss page.