Below are Ten  Ways To Avoid Flood Damaged Vehicles.
1. Check the trunk, glove box, dashboard, and under the bottom if the seats for silt, mud or rust.
2. Smell. Smell. Take a deep breath. Any sign of mildew or mold is a sure sign of water damage.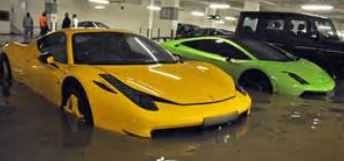 3. If carpets are faded, stained or discolored if could be from water damage. Also new carpet or upholstery is a sign of water damage.
4. Wires under the dash that have become wet, and then were driend will become brittle and crack.
5. Check wipers, turn signals, radio, heater, a/c interior lights, sunroof and nav system to make sure they work.
6. Turn the engine on and check all the warning lights and gauges. These normally go through a sequence and then turn off.
7. Water lines in the headlights are a sure tell-tale sign. Same with taillights.
8. Check hard to detail (clean) areas like door jambs, gaps in panels, edges of brackets, and under the hood.
9. Unpainted metal will rust first. Look at trim screws and nuts and bolts.
10. Check the drain plugs in the floor boards and in the trunk. If they look like they have been recently pulled you might have a flood car.
Remember that many of the computer boxes are fairly low, often behind the front kick pad in the foot well, for example. A small amount of water can add up to thousands in repairs.
Was your vehicle totaled in a flood? Get your true market value with our Fair Market Valuation report: