Motorcycle and Powersports Percent Change- March to April 2016
PowerSports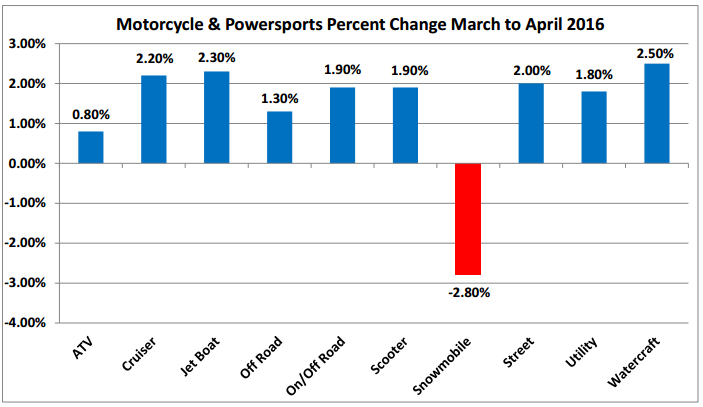 What Do We See in The Powersport Market 
– Among the on road bikes, and in a reversal from last month, Cruisers (up 2.2%) are the biggest
gainers this time, with Street Bikes (up 2.0%) following closely behind.
– Within the Cruiser portion, one peculiar item to note is that recent (2013 and newer) V-Twin
units are up a little over 3% while older ones are only up about 1%.
– Dual Sports and Scooters are both up by 1.9%.
– Among the off-roads, ATVs are up the least with a modest increase of 0.8%, while Utility
Vehicles, always a steady performer, are up a full percentage point more at 1.8%.
– The Personal Watercraft and Jet Boat segments outperformed the motorcycles by a small
amount and increased in value by 2.5% and 2.3% respectively.
– Snowmobiles have begun their off-season declines in value and have dropped by 2.8 % versus
last month.