New Jersey Insurance Commissioner Complaint
New Jersey Insurance Commissioner Complaint Information
Consumer Inquiries and Complaints
The Department of Banking and Insurance and Real Estate Commission are ready to answer any questions or inquiries you may have or open a formal complaint via our Consumer Inquiry and Response Center (CIRC).
You may contact the unit in several ways – our most convenient way is filing an ONLINE COMPLAINT FORM. You may also contact the unit by telephone, mail, fax or in person.
When we receive your inquiry or complaint, it is then logged into our database and a tracking number is assigned for future reference.
Listed below are the ways to contact us. Whether it is a question or a formal complaint, you will receive an acknowledgment to your inquiry.
Online Form
Complete the online form at right and submit documentation if necessary:
New Jersey Online Complaint Form
Paper Form
new-jersey-insurance-commissioner-complaint  –  pdf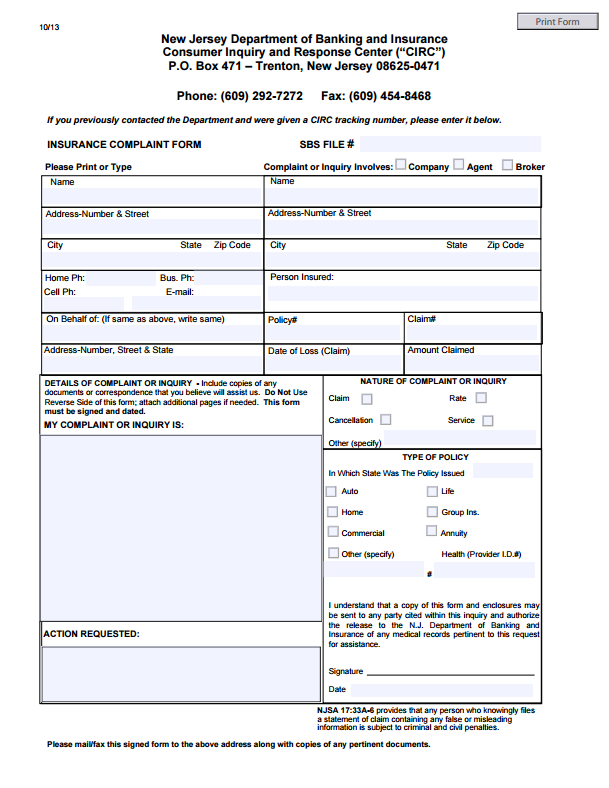 Contact Information
Mail to:
New Jersey Department of Banking and Insurance
Consumer Inquiry and Response Center ("CIRC")
P.O. Box 471 – Trenton, New Jersey 08625-0471
Phone: (609) 292-7272
Fax: (609) 454-8468