Diminished Value of Georgia Review: Awarded Best of 2013 on Kudzu, now 2 years in a row.

Voted by the Kudzu Community as a Top Alpharetta Appraisal Services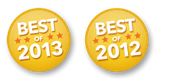 Alpharetta – December 12, 2013 – Diminished Value of Georgia was named a Best of 2013 winner for Alpharetta Appraisal Services on Kudzu.com, a leading source for local business information and consumer reviews.
Over 5 million local businesses competed across a wide range of categories including home, auto, health and professional services. Winners were determined based on thousands of votes from consumers in the Alpharetta Kudzu community. Diminished Value of Georgia received the top honor and will be recognized with a Best of 2013 badge displayed on their Kudzu business listing page.
"We are proud that our customers and Kudzu users voted us as one of the best Appraisal Services companies in Alpharetta. Winning this award from Kudzu only strengthens our commitment to our customers.", says Lindsey Burns, Client relations specialist at Diminished Value of Georgia.
"The 'Best of' contest allows consumers to show their appreciation for local businesses that have served them well. Kudzu is proud to be an avenue for this support, and to recognize companies that offer the highest levels of service" stated Fran Wills, General Manager of Kudzu.
Please visit http://www.kudzu.com/best/atlanta/appraisal-services to see our listing.
About Diminished Value of Georgia
Diminished Value of Georgia is the state's leading car appraisal company specializing in total loss valuation reports.
About Kudzu.com:
Kudzu.com helps consumers evaluate local services and choose highly rated providers in their area. The website features expert videos, business profiles, consumer reviews and money-saving deals in every major U.S. city. Kudzu.com is owned by Cox Search Inc., a subsidiary of Cox Enterprises, a leading communications, media and automotive services company. Cox's businesses include Cox Communications, Manheim, AutoTrader.com and Cox Media Group. For more information, please visit http://www.kudzu.com

Best-of-Kudzu-award-certificate-2013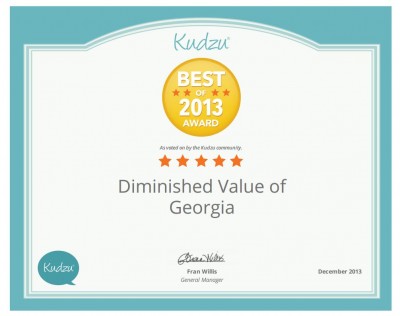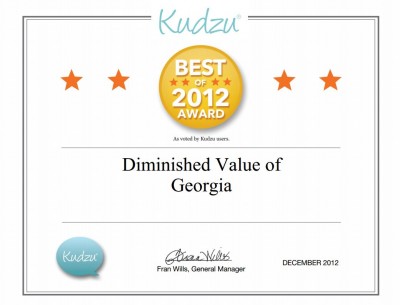 Diminished Value of Georgia Awarded Best of 2013 on Kudzu, now 2 years in a row.