Diminished Value of Georgia sponsors the Georgia Bar Association's 2017 Annual Meeting
Atlanta's number one car appraisal company will sponsor and present an exhibit at the State Bar of Georgia Annual meeting at Jekyll Island, GA. 
Diminished Value of Georgia is a company whose mission is to help car accident victims recover financially by providing the necessary documents to file a diminished value insurance claim. Diminished value is defined as the measured loss in value that a vehicle incurs after an accident or other incident (such as fire or flood). An insurance company is required by law to reimburse the insured party for the actual amount of loss in the value of the vehicle as a result of the damage. The best way to determine the diminished value of a vehicle is to hire a reputable independent appraiser to assess the DV of the vehicle.
Date: June 08, 2017 – June 11, 2017
Place: Jekyll Island Convention Center (Directions)
2017 State Bar of Georgia – Annual Meeting – June 8-11 l Jekyll Island, Ga
JOIN US AT JEKYLL ISLAND! (Note from the GA Bar President, Patrick O'Connor)
On behalf of the Board of Governors and Executive Committee, I would like to invite you to attend the 2017 Annual Meeting of the State Bar of Georgia to be held June 8-11 at the Jekyll Island Convention Center on Jekyll Island, Ga. I hope you and your family will take this time to rest, relax and recharge while we as a Bar review and reflect on the achievements and successes of the past year and look forward to a year full of new and exciting opportunities. Jekyll Island is a beautiful blend of serenity and discovery, and the unique set-up of this meeting will allow you to customize your experience by choosing accommodations that best suit you and your family's needs. All hotels are within a short distance from the epicenter of the meeting, the reconstructed and reimagined Jekyll Island Convention Center. I encourage you to take advantage of the many CLE opportunities that have been planned, along with section events, business meetings, alumni gatherings and other social functions. The festivities will begin with Thursday evening's Opening Night Festival, An Evening with Critters and Cocktails, and culminate with Saturday night's Presidential Inaugural Gala, where Brian D. "Buck" Rogers will be sworn in as the 2017-18 Bar president. There will be plenty of time to focus on your family and your well-being while at Jekyll Island with the number of recreational opportunities available— including golf, biking, horseback riding, day trips and tours, or simply relaxing with your family and friends in this beautiful and historical setting. It has been an honor and privilege to serve as your 2016-17 State Bar president. Thank you for your trust and this opportunity. See you on Jekyll Island!
SCHEDULE OF EVENTS
6 THURSDAY, JUNE 8 8 a.m. – 7:30 p.m. Registration 8 a.m. – 12 p.m. Exhibitor Setup 10 a.m. – 3 p.m. Investigative Panel 10:30 a.m. – 1:30 p.m. Joint meeting of the MLAP Committee, Military/Veterans Law Section and the Criminal Law Section (includes lunch) 12 – 2 p.m. ICLE Board of Trustees Meeting 12:30 – 4 p.m. Clients' Security Fund 1 – 2 p.m. Bench & Bar Committee 1 – 6 p.m. Legal Exposition Open 2 – 4 p.m. CLE—Listen, React, Articulate: Seal the Deal with Improv 2 – 5 p.m. Board of Bar Examiners 2 – 5 p.m. CLE—War Stories XVII, Plus Georgia Evidence Update 3 – 4 p.m. Budget Hearing 6:30 – 9:30 p.m. Opening Night Festival FRIDAY, JUNE 9 6:30 a.m. – 8 p.m. Registration 7 a.m. – 7 p.m. Legal Exposition Open 7 – 8 a.m. YLD/Pro Bono 5K Fun Run 7 – 9 a.m. Tradition of Excellence Breakfast General Practice & Trial Law Section 9 a.m. – 12 p.m. Plenary Session: Awards Presentation, Annual Members Meeting and 2016-17 Board of Governors Meeting 12 – 2 p.m. Appellate Practice Section Lunch 12 – 2 p.m. Judicial Section Lunch 12 – 2 p.m. YLD Leadership Academy Graduation Luncheon 1 – 3 p.m. Formal Advisory Opinion Board 1 – 4 p.m. Review Panel 2 – 4 p.m. Disciplinary Rules & Procedures Committee 2 – 4 p.m. YLD Pool Party and Meet the Candidates Reception 2 – 4:15 p.m. CLE—Creating Criminality: Historical Perspectives/Present and Future Concerns 2 – 5 p.m. CLE—Labor & Employment Law: Hot Topics and Current Trends 3:30 – 5:30 p.m. Member Benefits Committee 5 – 6 p.m. Labor & Employment Law Section Reception 5 – 7 p.m. Atlanta's John Marshall Law School Alumni Reception 5 – 7 p.m. Cumberland School of Law Alumni Reception Honoring YLD Incoming President Nicole Leet ('08) 5 – 7 p.m. Emory School of Law Alumni & Friends Reception 5 – 7 p.m. Georgia State College of Law Reception 5 – 7 p.m. UGA School of Law Alumni Reception Honoring Incoming President Brian D. "Buck" Rogers (hosted by Fried Rogers Goldberg LLC, Georgia Trial Lawyers Association and the University of Georgia School of Law)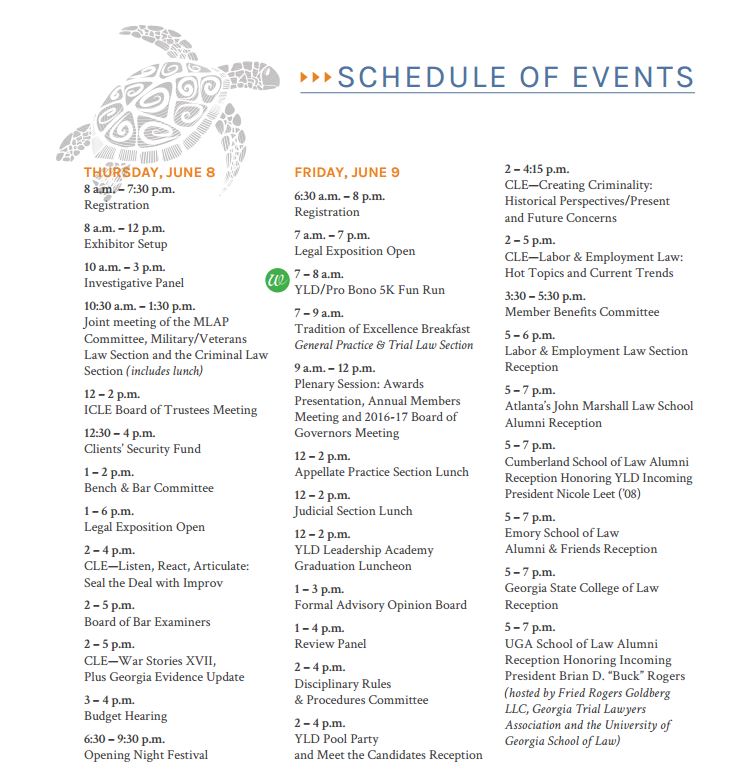 Georgia State Bar 2017 Annual Meeting – Schedule of Events