Wondering how far you can drive your car on empty?
Below is a list of vehicles sold in the US in 2018 by range from the minute the fuel light turns on.
Driving on empty can harm your vehicle. It is recommended to fill up at  1/4 tank as to avoid harmful sediments from entering your combustion chamber and damaging the engine.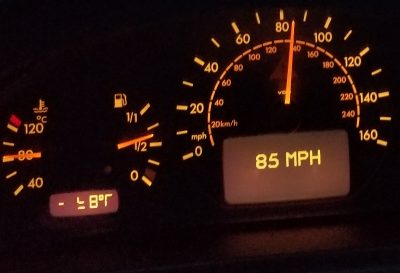 | | | |
| --- | --- | --- |
| Make | Model | Miles |
| Ford | F150 | 35 |
| Chevy | Silverado | 25 |
| Ram | 1500 | 63 |
| Toyota | Camry | 65 |
| Toyota | Corolla | 60 |
| Nissan | Altima | 81 |
| Honda | Accord | 70 |
| Honda | CRV | 62 |
| Honda | Civic | 59 |
| Ford | Fusion | 35 |
| Ford | Escape | 35 |
| Toyota | RAV4 | 57 |
| Chevy | Equinox | 50 |
| Nissan | Rogue | 78 |
| Hyundai | Elantra | 30 |
| Ford | Explorer | 35 |
| Chevy | Cruze | 56 |
| Ford | Focus | 35 |
| GMC | Sierra | 56 |
| Hyundai | Sonata | 35 |
| Jeep | Cherokee | 64 |
| Nissan | Sentra | 40 |
| Jeep | Wrangler | 66 |
| Chrysler | 20 | 60 |
| Chevy | Malibu | 47 |
| Jeep | Grand Cherokee | 69 |
| Toyota | Tacoma | 50 |
| Subaru | Forester | 66 |
| Kia | Optima | 63 |
| Toyota | Highlander | 62 |
| Kia | Soul | 30 |
| Toyota | Sienna | 58 |
| Subaru | Outback | 30 |
| Nissan | Versa | 54 |
| VW | Jetta | 65 |
| Honda | Odyssey | 80 |
| Honda | Pilot | 57 |
| Ford | Mustang | 57 |
| Ford | Edge | 45 |
| Chevy | Traverse | 35 |
| Toyota | Tundra | 35 |
| Jeep | Patriot | 42 |
| Toyota | Prius | 60 |
| Hyundai | Santa Fe | 46 |
| Kia | Sorento | 76 |
| Chevy | Impala | 40 |
| Ford | Transit | 40 |
| Mazda | Mazda3 | 69 |
| Mazda | CX5 | 67 |
| GMC | Terrain | 50 |