The Carfax price calculator, a very bad pricing tool that attempts but fails to establish a vehicle's value after an accident.
I've been wanting to write an article about the carfax pricing calculator  for a while now, partly because many of my clients receive a Carfax report from their insurance carriers as an excuse to under-pay an insurance claim.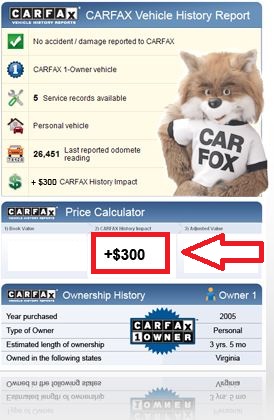 When do insurance carriers use the Carfax Price Calculator?
When the insured refuses the 17c formula
When the insured makes a demand or files a dispute
In lieu of hiring a legitimate appraiser
To blame a consumer recognized third party for the low value offered
To justify their bad faith offer
What is the Carfax Price Calculator?
According to the Carfax Value Calculator Service Mark Application, it's described as:
"Providing business and consumer information in the field of motor vehicle history information, namely a price value adjustment for a vehicle based on vehicle history attributes."
This added feature of the carfax report was introduced a couple years ago as a way to increase the carfax value proposition. It since has been received with mixed reviews both from dealers and consumers.
The Carfax History Report States : "Other information about this vehicle, including problems, may not have been reported to CARFAX. Use this report as one important tool, along with a vehicle inspection and test drive, to make a better decision about your next used car."
Obviously carfax is as accurate as the information provided to it, in my personal opinion, it's usually 65 to 70% accurate.
The Carfax Price Calculator and Diminished Value:
One of the main reasons people order a carfax report is to find out if the vehicle they want to buy was involved in an accident. Obviously, the vehicle owner at the time of the accident is entitled to the loss in value the vehicle suffers.
Based on the thousands of appraisals I've personally been involved in, carfax has been 0% accurate when it comes to adjusting for the market value due to a wreck.
Provided the accident was indeed reported to carfax (very many are not), below are the reasons why the Carfax Price Calculator is inaccurate and inadmissible in court or legal proceedings:
No one at Carfax examined the damage estimate nor was aware of the extent of the repair. Since carfax agents were not involved in the repair process how could they possibly know the intensity of the accident? Also, since they did not inspect the vehicle, how would they know the exact condition? Would a non-smoker, garage kept pristine vehicle score the same as a kid hauler? FAIL
According to Carfax's Patent and Trademark Office application,  the Carfax price calculator looks for "history attributes", these are universally recognized as:

Age of Vehicle
Mileage of Vehicle
Number of Owners
Recalls
Accident History
Warranty
Title History
Usage (rental, fleet, personal etc…)

Since all these "attributes" are blended together to create this price modifier, how can we logically deduce what is the impact of a single attribute? Would a 1 owner add 1% to the market value or would  an accident reduce it by 2%? FAIL
The Carfax Price Calculator is not a viable vehicle appraisal as it did not indicate the vehicle's cash value. If $200 is the impact of an accident, would that be the same on a $10,000 and a $50,000 car? Is the Carfax calculator percentage based or value based? If it's percentage based, would the same percentage apply on all makes and models? Would a Ferrari and a Kia both lose 2% due to a wreck?  If so, where did the percentage come from and why 2% not 3% ??? FAIL
The Carfax appraisal did not cite an appraisal method or any valuation data. FAIL
The Carfax appraisal was a mass appraisal and thus not USPAP compliant. FAIL
The Carfax appraisal is based on predetermined results and thus not USPAP compliant. FAIL
Carfax will not appear in court as an expert witness to defend its report as the report was not signed by an individual, an "expert witness". FAIL
The Carfax report does not meet the Daubert Standard. A witness who is qualified as an expert by knowledge, skill, experience, training, or education may testify in the form of an opinion or otherwise if:

(a) The expert's scientific, technical, or other specialized knowledge will help the trier of fact to understand the evidence or to determine a fact in issue;
(b) The testimony is based on sufficient facts or data;
(c) The testimony is the product of reliable principles and methods; and
(d) The expert has reliably applied the principles and methods to the facts of the case.FAIL

The Carfax report has serious limitations as outlined in the West V Carfax – History Report Limitations. Below is a snapshot of a carfax report showing $120 above blue book for a vehicle with a Junk title. HUGE FAIL.


The Carfax Disclaimer itself; "Limited Warranty. Customer acknowledges that CARFAX is collecting data from public records and other sources for use in the VHS and that this data

may contain errors and omissions.

CARFAX

does not guarantee the correctness or completeness

of the VHS and CARFAX will not be liable for any loss or injury caused, in whole or part, either by its negligence or circumstances beyond its control in procuring, compiling, collecting, interpreting or making available the VHS. Customer understands that not all information is available for all states and that CARFAX does not have access to some information that may be available to other parties. Customer also understands there may be a period of time between receipt of certain information by CARFAX and its inclusion of such information into the VHS. Customer acknowledges that the

V

HS does not provide any conclusions regarding the condition of any vehicle,

and Customer assumes full responsibility with respect to its decisions and transactions using the VHS. Customer recognizes that CARFAX's sole obligation in the case of erroneous data, when notified in writing by Customer of such erroneous data, is correction of the record in question. CARFAX MAKES AND CUSTOMER RECEIVES NO WARRANTIES, EXPRESS OR IMPLIED, AND CARFAX EXPRESSLY DISCLAIMS ALL IMPLIED WARRANTIES OF MERCHANTABILITY AND FITNESS FOR A PARTICULAR PURPOSE."
The Bottom line: There is no substitute for a real appraisal, a document compiled by a professional after reviewing all relevant data and a physical inspection. Carfax's attempt at the appraisal market is a huge disappointment and to aggravate the matter, their report is being systematically used by insurance carriers to underpay on claims, dare I say collusion?
This article was written by Antoine Rached, reproduction is prohibited without author's explicit consent.
Edit 5/15/2013:
We appraised loss in value on this F150 and based on the amount and severity of loss, we DEDUCTED $1,800, Carfax's algorithm added $1,450, so basically, Carfax is saying that two wrecks increase the value of a vehicle, what a novel idea!