Nevada Insurance Commissioner Complaint
Nevada Insurance Commissioner Complaint Information
File a Complaint
The Consumer Services Section of the Nevada Division of Insurance handles all requests for consumer assistance. We can help you understand your policy and answer any questions you might have regarding claims or companies.
We urge all consumers who are having trouble to first try to resolve any problems with their insurance company or agent. If however, such attempts are unsuccessful, we invite consumers to submit a formal Complaint, and one of our staff members will be happy to act as a liaison, working with the consumer and their insurance company or agent to try and resolve the problem.
If the issue cannot be resolved with the insurance company, you can print a copy of the complaint form, and mail the complaint to the nearest Division of Insurance office.
How to File Electronically:
You can also file your complaint online.
Fax or Mail:
nevada-insurance-commissioner-complaint – pdf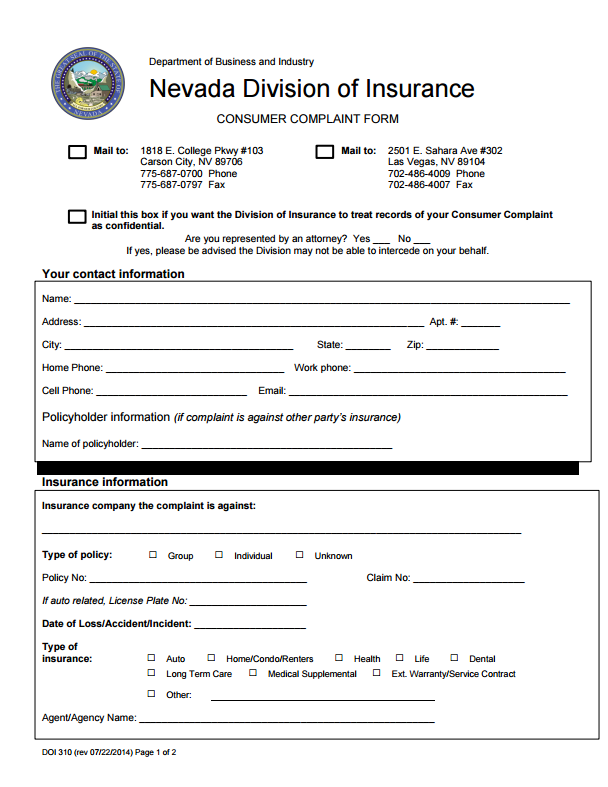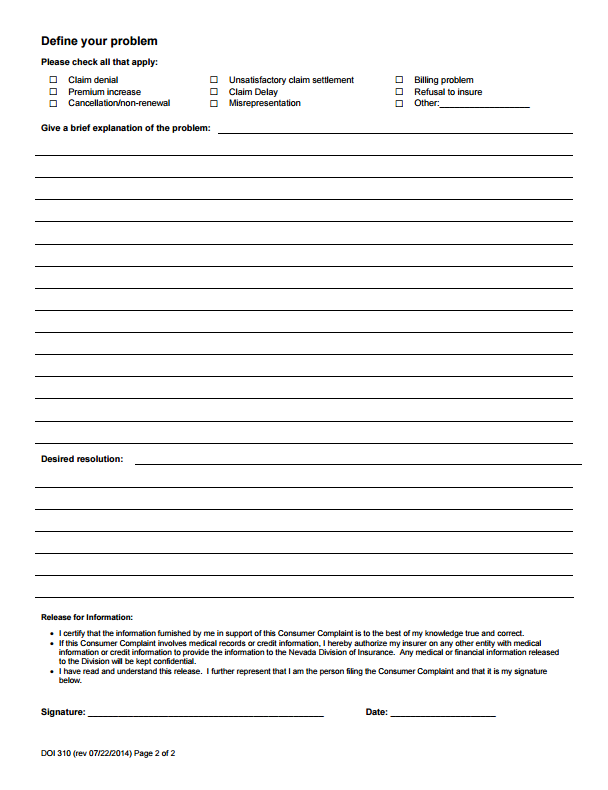 Examples of Complaints Addressed by the Nevada Division of Insurance
Improper denial or delay in settlement of a claim
Alleged illegal cancellation or nonrenewal of an insurance policy
Problems concerning insurance premiums and rates
Alleged misconduct by an agent or broker (misrepresentation, theft of premiums, etc.)
Problems related to Bail and Bail Agencies or Agents.
Problems relating to the medical necessity of a treatment, an experimental or investigational  therapy for certain medical conditions, or a claim denial for emergency or urgent medical services.
Mail to:
1818 E. College Pkwy #103
Carson City, NV 89706
775-687-0700 Phone
775-687-0797 Fax
Or Mail to:
2501 E. Sahara Ave #302
Las Vegas, NV 89104
702-486-4009 Phone
702-486-4007 Fax