Georgia's Magistrate Courts
If you can't to resolve a dispute with a person or a business, you may take your problem to magistrate court.
Magistrate court, also called small claims court, is an informal court that handles money claims of less than $15,000.  This court offers a quick and inexpensive process to resolve complaints.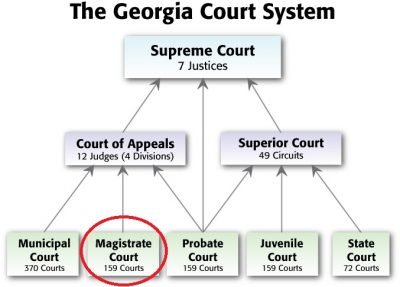 General Statement of Claim Info:
The Magistrate Court only accepts civil cases with a maximum claim of $15,000.
You may file a claim in magistrate court in your own name without an attorney
In order to file your case in Magistrate Court in the situation that your actual claim is more than $15,000, you cannot voluntarily reduce your claim amount or sue for only a part of that claim.
The person suing is the Plaintiff and the person being sued is the Defendant.
Civil cases must be filed in the county where the defendant lives, including those filed in a Magistrate Court.
If the defendant is a corporation, the claim must be filed in the county of the registered agent for the company.
If the defendant is an unincorporated business, the claim must be filed in the county where the business is physically located.
The Plaintiff must fill out the original statement of claim form in order to begin the lawsuit.
Rules of Conduct:
Be on time
Throw away gum, food, and drinks before entering the courtroom
Stand when the judge enters and leaves the courtroom
Stand when you are speaking to the judge
Speak clearly when you respond to the judge's questions
Always address the judge as "Your Honor"
Never interrupt the If you are unsure of what you heard, wait until the judge or other person speaking has finished talking before ask- ing a question
Enter and leave the courtroom quietly, so you do not disturb others
Only approach the bench when instructed to do so
Attire (What NOT to wear):
Hats or other head coverings inside the courtroom (except those worn for religious or medical purposes)
Sunglasses
T-shirts depicting violence, sexual acts, profanity, or illegal drugs
Tube or halter tops/plunging necklines/ bare midriffs
Ripped or torn jeans
Miniskirts or shorts
Baggy pants that fall below the waist
Muscle shirts (usually worn as undergarments)
FORMS & GENERAL INFO
Below is a Directory of all magistrate courts in Georgia:
Georgia County
Court
Mailing
Phone Number
Appling
Appling County Magistrate Court
PO Box 366 Baxley, GA 31513
912-367-8116
Athens-Clarke
Athens-Clarke County Magistrate Court
325 E. Washington St.
Suite 240
Athens, GA 30601

706-613-3310
Atkinson
Atkinson County Magistrate Court
PO Box 571 Pearson, GA 31642
912-422-7158
Bacon
Bacon County Magistrate Court
PO Box 389 Alma, GA 31510
912-632-7661
Baker
Baker County Magistrate Court
PO Box 548 Newton, GA 39870
229-734-3007
Baldwin
Baldwin County Magistrate Court
121 N. Wilkinson Street, Suite 107 Milledgeville, GA 31061
478-445-4446
Banks
Banks County Magistrate Court
144 Yonah-Homer Road Suite 10 Homer, Georgia 30547
706-677-6270
Barrow
Barrow County Magistrate Court
652 Barrow Park Drive, Suite F
Winder, GA 30680
770-307-3050
Bartow
Bartow County Magistrate Court
112 W Cherokee Ave Suite 101
Cartersville, GA 30120
770-387-5070
Ben Hill
Ben Hill County Magistrate Court
255 Appomattox Road
Fitzgerald, Georgia 31750
229-426-5140
Berrien
Berrien County Magistrate Court
201 N. Davis St. Ste 250
Nashville, GA 31639
229-686-7019
Bibb
Bibb County Magistrate Court
601 Mulberry Street, Room 101 Courthouse
Macon, Georgia 31201
478-621-6495
Bleckley
Bleckley County Magistrate Court
112 North Second Street
Cochran, GA 31014
478-934-3202
Brantley
Brantley County Magistrate Court
PO Box 1150
Nahunta, GA 31553
912-462-6780
Brooks
Brooks County Magistrate Court
400 E. Courtland Avenue
Quitman, GA 31643
229-263-9989
Bryan
Bryan County Magistrate Court
PO Box 670
Pembroke, GA 31321
912-653-3860
Bulloch
Bulloch County Magistrate Court
101 Oak Street, at the corner of Oak & Hill Street, Statesboro, Georgia 30459
912-764-6458
Burke
Burke County Magistrate Court
P.O. Box 401
Waynesboro, Georgia 30830

706-554-4281
Butts
Butts County Magistrate Court
P.O. Box 457
Jackson, GA 30233
770 -775- 8220
Calhoun
Calhoun County Magistrate Court
P.O. Box 87
31 Court Street Suite C
Morgan, GA 39866
229-849-2115
Camden
Camden County Magistrate Court
210 E. 4th St.
PO BOX 386
Woodbine, GA 31569
912-576-5658

Candler
Candler County Magistrate Court
1075 E. Hiawatha Street, Suite A, Metter, GA 30439
912-685-2888
Carroll
Carroll County Magistrate Court
166 Independence Drive
Carrollton, GA 30117
770-830-5874
Catoosa
Catoosa County Magistrate Court
877 Lafayette Street
Ringgold, GA 30736
706-935-3114
Charlton
Charlton County Magistrate Court
1520 Third Street
Suite B
Folkston, GA 31537-8961
912-496-2617
Chatham
Chatham County Magistrate Court
133 Montgomery St.
Savannah GA 31401
912-652-7181
Chattahoochee
Chattahoochee County Magistrate Court
P.O. Box 120
Cusseta, GA 31805

706-989-3424
Chattooga
Chattooga County Magistrate Court
10017 Commerce St, Summerville, GA 30747
706-857-0711
Cherokee
Cherokee County Magistrate Court
90 North St
Canton, GA 30114
678-493-6000
Clay
Clay County Magistrate Court
210 Washington Street South, Suite 5, Fort Gaines, GA 39851
229-768-2841
Clayton
Clayton County Magistrate Court
9151 Tara Boulevard
Jonesboro, GA 30236
770-477-3444
Clinch
Clinch County Magistrate Court
110 Court Square
Homerville, GA 31634
912-487-2514
Cobb
Cobb County Magistrate Court
32 Waddell Street
Marietta, GA 30090
770-528-8900
Coffee
Coffee County Magistrate Court
825 Thompson Drive
Douglas, Georgia 31533
912-384-2983
Colquitt
Colquitt County Magistrate Court
101 E. Central Avenue, Office 175
P.O. Box 70
Moultrie, GA 31776-0070
229-616-7450
Columbia
Columbia County Magistrate Court
PO Box 777, Evans, Georgia 30809.
706-868-3316
Cook
Cook County Magistrate Court
1000 County Farm Road
Adel, Georgia 31620
229-896-3151
Coweta
Coweta County Magistrate Court
72 Greenville St., Suite 1200
Newnan, Georgia 30263
770-254-2610
Crawford
Crawford County Magistrate Court
100 GA Hwy 42 South
Knoxville, GA 31050
478-836-5804
Crisp
Crisp County Magistrate Court
510 N 7th St, Suite 105
Cordele, GA 31015
229-271-4728
Dade
Dade County Magistrate Court
75 Case Avenue
P.O. Box 605
Trenton, GA 30752-2429
706-657-4113
Dawson
Dawson County Magistrate Court
25 Justice Way, Suite 3201
Dawsonville, GA 30534
706-344-3730
Decatur
Decatur County Magistrate Court
912 Spring Creek Road
Bainbridge, GA 39817
229-248-3014
DeKalb
DeKalb County Magistrate Court
556 N. McDonough St
Suite 1200
Decatur, GA 30030
404-371-4767
Dodge
Dodge County Magistrate Court
5018 Courthouse Cir, Ste 202
Eastman, GA 31023
478-374-7243
Dooly
Dooly County Magistrate Court
113 N. Third Street, Room #2
Vienna, GA 31092
229-268-4324
Dougherty
Dougherty County Magistrate Court
P.O. Box 1827
Albany, GA 31702
229-431-3216
Douglas
Douglas County Magistrate Court
8700 Hospital Drive
Douglasville, Georgia 30134
770-920-7540
Early
Early County Magistrate Court
111 Court Sq D, Blakely, GA 39823
229-723-5492

Echols
Echols County Magistrate Court
P.O. Box 118
Statenville, GA 31648
229-559-7526
Effingham
Effingham County Magistrate Court
700 N Pine Street
Suite 250
Springfield, GA 31329
912-754-2124
Elbert
Elbert County Magistrate Court
P.O. Box 763
Elberton, GA 30635
706-283-2027
Emanuel
Emanuel County Magistrate Court
107 N Main Street
Swainsboro, GA 30401
478-237-7278
Evans
Evans County Magistrate Court
7 Freeman St. Courthouse Annex
Claxton, GA 30417
912-739-3745
Fannin
Fannin County Magistrate Court
400 West Main Street; Suite 202
Blue Ridge, Georgia 30513
706-632-5558
Fayette
Fayette County Magistrate Court
1 Center Drive
Fayetteville, GA 30214
770-716-4230
Floyd
Floyd County Magistrate Court
3 Government Plaza, Suite 227
Rome, Ga 30161
706-291-5250
Forsyth
Forsyth County Magistrate Court
1090 Tribble Gap Road
Cumming, GA 30040
770-781-2211
Franklin
Franklin County Magistrate Court
7085 Hwy 145 Suite B
Carnesville, GA 30521
706-384-7473
Fulton
Fulton County Magistrate Court
185 Central Avenue, SW Atlanta GA 30303
404-613-5360
Gilmer
Gilmer County Magistrate Court
1 Broad Street Suite 203
Ellijay, Georgia 30540
706-635-2515
Glascock
Glascock County Magistrate Court
P.O. Box 277
Gibson, GA 30810
706-598- 3241
Glynn
Glynn County Magistrate Court
701 H Street, 1st Floor
Brunswick, Georgia 31520
912-554-7250
Gordon
Gordon County Magistrate Court
100 South Wall Street
Calhoun, GA 30701
706-629-6818
Grady
Grady County Magistrate Court
250 North Broad Street

Cairo, GA 39828
229-377-4132
Greene
Greene County Magistrate Court
113 North Main St, Suite 113, Greensboro, GA 30642
706-453-3346
Gwinnett
Gwinnett County Magistrate Court
P.O. Box 246
Lawrenceville, GA 30046-0246
770-822-8100
Habersham
Habersham County Magistrate Court
295 Llewellyn Street, Suite 111
Clarkesville, GA 30523
706-839-0350
Hall
Hall County Magistrate Court
P.O. Box 1435
Gainesville, GA 30503

770-531-6912
Hancock
Hancock County Magistrate Court
12630 Broad Street, Suite C
Sparta, GA 31087
706-444-6234
Haralson
Haralson County Magistrate Court
PO Box 1040
Buchanan, GA 30113
770-646-2015
Harris
Harris County Magistrate Court
P.O. Box 365
Hamilton, GA 31811
706-628-4958
Hart
Hart County Magistrate Court
P. O. Box 698
Hartwell, GA 30643
706-376-6817
Heard
Heard County Magistrate Court
P.O. Box 395
215 East Court Square, Room #11
Franklin, GA 30217
706-675-3002
Henry
Henry County Magistrate Court
One Judicial Center, Suite 260, McDonough, GA 30253
770-288-7700
Houston
Houston County Magistrate Court
89 Cohen Walker Drive
Warner Robins, GA 31088
478-987-4695
Irwin
Irwin County Magistrate Court
301 S. Irwin Avenue Ste 102
Ocilla, GA 31774
229-468-7671
Jackson
Jackson County Magistrate Court
5000 Jackson Parkway
Suite 230
Jefferson, GA 30549
706-387-6356
Jasper
Jasper County Magistrate Court
126 W Greene St # 110, Monticello, GA 31064
706-468-4900
Jeff Davis
Jeff Davis County Magistrate Court
P.O. Box 568
Hazlehurst, GA 31539
912-375-6630
Jefferson
Jefferson County Magistrate Court
P.O. Box 749
Louisville, GA 30434
478-625-8834
Jenkins
Jenkins County Magistrate Court
P.O. Box 892
Millen, GA 30442
478-982-5580
Johnson
Johnson County Magistrate Court
PO Box 264
Wrightsville, GA 31096
478-864-3316
Jones
Jones County Magistrate Court
P.O. Box 1090
Gray, GA 31032
478-986-6668
Lamar
Lamar County Magistrate Court
126 Roberta Drive
Barnesville, GA 30204
770-358-5154
Lanier
Lanier County Magistrate Court
56 Main Street, Suite 10
Lakeland, GA 31635
229-482-3668
Laurens
Laurens County Magistrate Court
P.O. Box 2028
Dublin, GA 31040
478-272-3210
Lee
Lee County Magistrate Court
104 Leslie Highway
PO Box 522
Leesburg, Georgia 31763
229-759-6016
Liberty
Liberty County Magistrate Court
112 N. Main St. Hinesville, GA 31313
912-368-2063
Lincoln
Lincoln County Magistrate Court
PO Box 205
210 Humphrey Street
Lincolnton, Georgia 30817

706-359-5528
Long
Long County Magistrate Court
P.O. Box 87
Ludowici, GA 31316
912-545-2131
Lowndes
Lowndes County Magistrate Court
327 N. Ashley St.
Valdosta, GA 31601
229-671-2610
Lumpkin
Lumpkin County Magistrate Court
325 Riley Road
Room 109
Dahlonega, GA 30533
706-864-7760
Macon
Macon County Magistrate Court
P.O. Box 605
Oglethorpe, GA 31068
478-472-8509
Madison
Madison County Magistrate Court
P.O. Box 6 Danielsville, GA 30633
706-795-6375
Marion
Marion County Magistrate Court
PO Box 196
Buena Vista, GA 31803
229-649-5542
McDuffie
McDuffie County Magistrate Court
210 Railroad Street
Room 1401
Thomson, GA 30824
706-597-2618
McIntosh
McIntosh County Magistrate Court
P.O. Drawer 459
Darien, GA 31305
912-437-4888
Meriwether
Meriwether County Magistrate Court
P.O. Box 702
100 Courtsquare
Greenville, GA 30222
706-672-1247
Miller
Miller County Magistrate Court
?155 South First Street
Room 110
Colquitt, Georgia 39837
229-758-4110
Mitchell
Mitchell County Magistrate Court
22 North Court Street
Camilla, GA 31730
229-336-2077
Monroe
Monroe County Magistrate Court
145 L Cary Bittick Drive Forsyth, GA 31029
478-994-7018
Montgomery
Montgomery County Magistrate Court
P.O. Box 174
Mount Vernon, GA 30445
912-583-2170
Morgan
Morgan County Magistrate Court
149 E. Jefferson St.
P.O. Box 589
Madison, GA 30650
706-342-3088
Murray
Murray County Magistrate Court
812 G.I. Maddox Parkway
Chatsworth, GA 30705
706-695-3021
Muscogee
Muscogee County Magistrate Court
PO Box 1340
Columbus, Georgia 31902
706-653-4390
Newton
Newton County Magistrate Court
1132 Usher Street, Room 149
Covington, Georgia 30014
770-784-2050
Oconee
Oconee County Magistrate Court
23 N Main St, Watkinsville, GA 30677

706-769-3940
Oglethorpe
Oglethorpe County Magistrate Court
P.O. Box 356
Lexington, GA 30648
706-743-8321
Paulding
Paulding County Magistrate Court
280 Constitution Blvd
Dallas, GA 30132

770-443-7533
Peach
Peach County Magistrate Court
700 Spruce Street, Wing A
Fort Valley, Ga. 31030
478-825-2060
Pickens
Pickens County Magistrate Court
50 N Main St # 105, Jasper, GA 30143
706-253-8747
Pierce
Pierce County Magistrate Court
3550 US-84, Blackshear, GA 31516
912-449-2027
Pike
Pike County Magistrate Court
16001 Barnesville Street
P.O. Box 466
Zebulon, Georgia 30295
770-567-2004
Polk
Polk County Magistrate Court
102 PRIOR ST.
Suite 203
Cedartown, GA 30125
770-749-2130


Pulaski
Pulaski County Magistrate Court
45 South Lumpkin Street, Suite 105
Hawkinsville, GA 31036
478-783-1357
Putnam
Putnam County Magistrate Court
100 S Jefferson Ave # 306, Eatonton, GA 31024
706-485-4306
Quitman
Quitman County Magistrate Court
P.O. Box 7
Georgetown, GA 39854
229-334-2224
Rabun
Rabun County Magistrate Court
25 Courthouse Square # 105, Clayton, GA 30525
706-782-2285
Randolph
Randolph County Magistrate Court
P.O. Box 6
Cuthbert, GA 39840-0006
855-782-6310
Richmond
Richmond County Magistrate Court
735 James Brown Blvd #1400, Augusta, GA 30901
706-821-2370
Rockdale
Rockdale County Magistrate Court
945 Court St., Conyers, GA 30012
770-278-7800
Schley
Schley County Magistrate Court
P.O. Box 385
Ellaville, GA 31806
229-937-5110
Screven
Screven County Magistrate Court
P.O. Box 64
216 Mims Rd. Suite 111
Sylvania, GA 30467
912-564-7375
Seminole
Seminole County Magistrate Court
200 South Knox Avenue
Donalsonville, GA 39845
229-524-5256
Spalding
Spalding County Magistrate Court
132 East Solomon Street
Griffin, Georgia 30223
770-467-4321
Stephens
Stephens County Magistrate Court
70 N. Alexander St., Ste. 107
Toccoa, GA 30547
706-886-6205
Stewart
Stewart County Magistrate Court
P.O. Box 712
Lumpkin, GA 31815
229-838-0505
Sumter
Sumter County Magistrate Court
P.O. Box 563
Americus, GA 31709
229-928-4524
Talbot
Talbot County Magistrate Court
PO Box 157
26 S Washington Avenue
Talbotton, Georgia 31827
706-665-8866
Taliaferro
Taliaferro County Magistrate Court
P.O. Box 264
Crawfordville, GA 30631
706-456-2253
Tattnall
Tattnall County Magistrate Court
Post Office Box 513
Reidsville, GA 30453
912-237-4637
Taylor
Taylor County Magistrate Court
PO Box 536
Butler, GA 31006
478-862-3357
Telfair
Telfair County Magistrate Court
19 East Oak Street
McRae, GA 31055
229-868-6772
Terrell
Terrell County Magistrate Court
P.O. Box 793
Dawson, GA 39842
229-995-3757
Thomas
Thomas County Magistrate Court
PO Box 879
Thomasville, GA 31799
229-225-3330
Tift
Tift County Magistrate Court
225 Tift Ave
Charles Kent Admin Bldg. Room 211
229-386-7907
Toombs
Toombs County Magistrate Court
100 Courthouse Square, Lyons, GA 30436
912-526-8984
Towns
Towns County Magistrate Court
48 River Street
Suite C
Hiawassee, GA 30546
706-896-3467
Treutlen
Treutlen County Magistrate Court
650 2nd St, S. Ste 101
Soperton, GA 30457
912-529-3342
Troup
Troup County Magistrate Court
100 Ridley Avenue
LaGrange, Georgia 30240
706-883-1695
Turner
Turner County Magistrate Court
219 E College Ave # 2, Ashburn, GA 31714
229-567-3155
Twiggs
Twiggs County Magistrate Court
425 Railroad Street 2nd Floor
P.O. Box 146
Jeffersonville, Georgia 31044
478-945-3428
Union
Union County Magistrate Court
65 Courthouse Street, Suite 10
Blairsville, GA 30512
706-439-6008
Upson
Upson County Magistrate Court
305 S. Hightower Street, Suite D120

PO Drawer 890

Thomaston, GA 30286
706-647-6891
Walker
Walker County Magistrate Court
102 Napier Street, LaFayette, Georgia
706-638-1217
Walton
Walton County Magistrate Court
303 South Hammond Drive Suite 116 Monroe, Georgia 30655
770-267-1349
Ware
Ware County Magistrate Court
310 Albany Avenue
Waycross, GA 31501
912-287-4375
Warren
Warren County Magistrate Court
521 Main Street, Ste 104
Warrenton, GA 30828
706-465-2227
Washington
Washington County Magistrate Court
P.O. Box 1053
Sandersville, GA 31082
478-552-3591
Wayne
Wayne County Magistrate Court
P.O. Box 27
Jesup, GA 31598
912-427-5960
Webster
Webster County Magistrate Court
PO Box 18
6330 Hamilton St., Rm 101
Preston, GA 31824
229-828-3615
Wheeler
Wheeler County Magistrate Court
P.O Box 477
Alamo, GA 30411
912-568-7133
White
White County Magistrate Court
59 S Main St D, Cleveland, GA 30528
706-865-2613
Whitfield
Whitfield County Magistrate Court
205 N Selvidge Street
Dalton, GA 30720
706-278-5052
Wilcox
Wilcox County Magistrate Court
103 North Broad Street
Abbeville, Georgia 31001
229-467-2458
Wilkes
Wilkes County Magistrate Court
23 E Court St #427, Washington, GA 30673
706-678-1881
Wilkinson
Wilkinson County Magistrate Court
P.O. Box 201
Irwinton, GA 31042
478-946-2222
Worth
Worth County Magistrate Court
201 North Main Street Room 21 Sylvester, Georgia 31791
229-776-8210